You need easy to use software, and that's what we're famous for, but we also know that you may need a hand getting set up and comfortable with the Buildxact. So every subscription includes 3 hours of training, just for you, one on one.
To be clear, we're not talking about days inside a windowless training room and pages upon pages of material to read. We like to keep it simple and to the point so that you can get on with your work as fast as possible.
Making time for training up front will save you loads of time later on
Although it may seem hard to carve out the time for training when your schedule is so tight, it's actually the quickest way to get going and get results.
Like anything new, the first bit is always the hardest, so we don't want you to spend hours trying to work it out for yourself, when you can have an expert take you through it all in half the time.
And did we say that the first 3 hours are included in your subscription?
Meet two of our trainers – Dan and Karin
We spoke to two members of our Customer Success Team, Dan Conlon and Karin ten Broek, to get a run down on what our set up and training is all about, and why it's so worthwhile.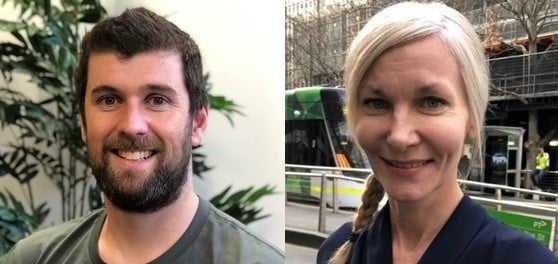 Dan has been with Buildxact for six years. He came to the company after studying business and mechanical engineering and was originally on board to create training content and attend events; like a kind of walking help desk. These days he's more commonly found training Buildxact customers on the software so they can make it work for them at every turn, and there's not a lot he hasn't seen before when it comes to our software!
Karin joined Buildxact around 18 months ago and comes from a background of learning and development. She has also worked as an implementation consultant with a software company and has a great knack of getting people comfortable using the software in no time at all.
If you've been on the fence and unsure about whether or not to attend Buildxact training, read on …
Here's what our experts have to say about the commitment involved and what they see as the benefits of undergoing Buildxact training.
Dan: "We offer our customers a relatively short (two hour max) one-on-one session with us, and it's typically enough to get people really comfortable to get on with it. The beauty is that because it's online it saves travel time and all you need is a computer and an internet connection, just like our software." Dan continues: "If people need it, there's also a one-hour follow up session where we cover off any outstanding questions and check in to make sure you're on track – this is all included in your subscription."
Karin: "Our training sessions are 'hands on'. We believe in learning by doing because if you can touch and feel the product then you'll really 'get it', and we can tailor the session to your needs. At the end of the session you have test data in your own system that you can use to practice with and become more accustomed to. It's a super quick way to become familiar with the software. My job is to help you become as self-sufficient as possible."
Our customised and flexible training will help you get started and avoid mistakes
Our Customer Success Team knows all about the kind of time pressure that people in the building industry face. They understand that users are busy and that jobs can throw up unexpected problems at any time. That's why Buildxact's set up and training has been designed to be flexible. We understand when our users need to reschedule.
Most important: you don't have to be any kind of computer whiz to complete the online training – the product is uniquely designed for people like you.
Karin: "I've spoken to customers who didn't know where or how to start and it was holding them back. After just two hours of training, they had enough knowledge to begin using the software to suit their business. And it wasn't long before they were flying!"
Dan: "Our training is designed to help users avoid time-costly mistakes, and because we train so many different businesses, we're used to customising our training based on each customer's needs. We don't want to waste your time teaching you stuff you won't need."
Karin: "We'd love our customers to know that our training sessions are facilitated by real people and that we're flexible – we can run shorter or longer sessions depending on what they need."
Book your Buildxact Training
If you haven't attended any Buildxact training or need to do a refresher, click here to book your training now.