For builders and trades, issuing effective Requests for Quotations (RFQs) is a crucial part of accurate budgeting and project planning. Whether you're sourcing materials, equipment or contracting part of a project, securing the right price, and of course the right quality or experience, makes all the difference. Not only does it keep your customers happy, but it can boost profits and your reputation too – so it's worth getting this part right.
RFQs vs RFPs
RFQs are not to be confused with RFPs (Requests for Proposals). Both are important procurement methods; however, each serve different purposes and involve different processes. A RFQ sources competitive costs for well-defined goods or services, and a RFP seeks out more comprehensive solutions and expertise for larger, more complex projects. Plus, the criteria for an RFP is much broader than cost, focusing more on technical expertise, solutions, and wider alignment with project goals.
Why do RFQs matter?
As with any kind of purchasing, it's important to shop around for the best prices and value, particularly nowadays where material prices can be very volatile, and skilled labor can be scarce.
RFQs help you manage this process, allowing you to compare suppliers for best prices to improve margins and hit project timelines.
But RFQs aren't only used to compare cost. When it comes to sourcing labor, you can vet workers based on qualifications and experience, ensuring they have a proven track record. They are also a useful way to mitigate risks, allowing you to check for the right regulatory compliance and insurance for full peace of mind.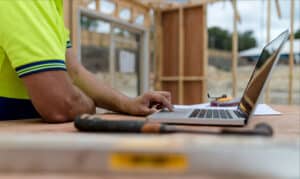 There's no doubt the RFQ process is an important one, and the suppliers and trades you choose as a result will directly impact the quality and reliability of the materials or services you use. That's why a growing number of builders and other contractors are now using construction estimating software to help manage the RFQ process.
As well as helping them create accurate estimates in a fraction of the time, the right software lets them submit RFQs to multiple suppliers and trades within their network, so they can track and compare costs and other essential information quickly and easily.
What to include in an RFQ
To receive detailed, accurate quotes from your suppliers and contractors, you need to make sure your RFQ is clear and holds all the right information. Here's what to include:
Project Summary: Give a brief overview of the project, so your suppliers understand the purpose and scope, and provide any relevant technical drawings, blueprints or plans that will help bidders. Make sure you include the site location and any necessary contact information, too.
Material details: Be specific about what materials you're sourcing. Provide detailed measurements and quantities from your takeoff, but also include material specs, including the type, quality, and source. Don't forget to add in details like colors, textures or any particular features or finishes for each material.
Work details: When looking for labor, outline any expertise, qualifications or licensing requirements needed to work on the project. Include the job site and delivery location information, as well as any special considerations for access. If applicable, also outline the budget for the total RFQ'd project.
Timeline: The RFQ needs to outline when materials are needed onsite to meet project milestones (where relevant). Include a work timeline with expected start and completion dates, as well as any labor staffing needs for time-sensitive elements. Also include payment schedules, outlining when and how these will be made to suppliers or subbies.
Instructions: Be clear on your RFQ about the process for submitting quotes, including the deadline for submissions. Outline what details you need, like itemized costs, or any additional documentation, and include contact details for enquiries. It's also worth being open about how you'll measure bids, such as price competitiveness, compliance, or relevant experience.
What to expect in a Response to RFQ
Once you've issued your RFQ, you'll be looking for thorough, timely responses, that are competitive and of course meet the project's requirements. For busy, time-strapped builders and contractors, don't overlook the details in RFQ responses, especially when working on a time-sensitive job. Make sure responses include:
Expertise & qualifications: Workers need to show they have the relevant expertise needed to fulfill the specific elements outlined in the RFQ. This might mean you need references to demonstrate competence.
Costs: You'll need a clear view on project costs, whether that's for the labor or materials, as well as any other expenses. Make sure they've outlined unit prices, as well as total costs for items or services, and check for any additional taxes, fees or surcharges.
Availability: Suppliers or trades need to confirm their availability to deliver on the job, and within the specified timelines you've outlined in the RFQ. In their response, they should show that they can meet key milestones and delivery dates and include any constraints that might impact this, so that you have a clear picture from the outset.
Additional fees & terms: Responses should disclose any additional fees like delivery charges, permits or disposal fees. They should also outline any conditional terms, warranties, or guarantees.
Project understanding: They should demonstrate their full understanding of the job and the materials and/or expertise needed for project success, as well as showing their commitment to meeting all deadlines and requirements.
Compliance & documentation: Responses should also clearly showcase full compliance with all the instructions in the RFQ, and contractors should attach relevant documentation like certificates, licenses, insurance, or safety plans.
Final steps
Once you have reviewed your RFQ responses and chosen your preferred supplier or tradie for the job, make sure you save all the relevant documentation and communications saved in a secure digital location, so you have everything readily to hand when you need it. Work the accepted RFQ results into your wider project estimate and ensure your final bid reflects the agreed terms and pricing.
Supercharge your RFQs
Effective RFQs help form the foundation for successful construction projects, so you can streamline job management, boost profits, mitigate risks and enhance your reputation. With Buildxact estimating software you can not only supercharge your RFQ process, but estimate faster and more accurately, saving you time and money.