5 minute read
After the rollercoaster of 2020, predicting anything in 2021 can often feel impossible. At a time of flux, the ability to accurately estimate construction time for building projects is never more vital.
While the Australian building industry has boomed through the global pandemic, the extreme pressure this has placed on the supply of materials and availability of labour has resulted in many frustrating delays for builders and clients.
While there will always be factors beyond the control of builders and project planners, here are 5 simple ways to help forecast and manage your construction time estimates.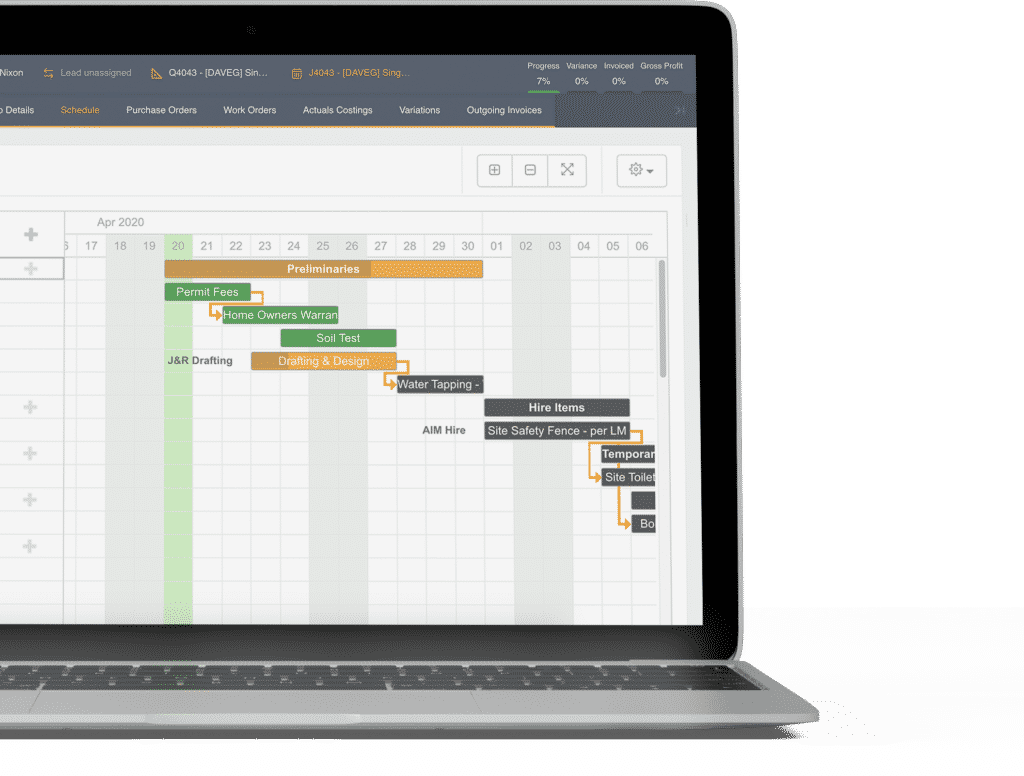 Plan well ahead with job management software
It may seem obvious but allowing for an ample planning phase is the crucial first step if your proposed project timeline is to stand any chance of becoming a reality.
Scheduling various stages, finalising building plans, budgets, applying for relevant permits, sourcing materials, labour and a host of other complex elements each take time and attention to detail. This is also the time to plan for contingencies and build additional slack into the schedule – ideally in your job management software – where possible/appropriate.
Given the high demand currently being experienced in the building industry, booking any subcontractors as far in advance as possible is also a must. Lock these collaborators into a contract – as early as possible – with scheduled start dates and milestone timeframes. This is a vital step in ensuring they turn up when you need them and that their part of the project is completed on time for the next phases.
While you and your clients may be in a rush to get cracking, taking adequate time to pre-determine as much as possible, and plotting all of this into estimating software like Buildxact, will save you more time down the track and avoid delays.
Get a bird's eye view
Until you can see all the moving parts of your project at once, you can be guaranteed there is something in the shadows waiting to sabotage your schedule.
While recent news of the extension of HomeBuilder construction deadline is likely to reduce some pressure on builders, timelines will continue to be affected by the volatile industry climate.
Being able to schedule, view and move all the elements of your build around on a timeline, in a construction management software that suits your projects, allows you to clearly see how each stage relates to – and may cause headaches for – those around them.
Buildxact's calendar scheduling feature makes this possible in an intuitive quick reference layout where you can plot and assign tasks, track completion and anticipate what's next. Without a bird's eye view of your entire project and the time you need to allow for each element, you're effectively flying blind.
Use construction management software to learn from your experiences
Unless this is your first build project, you have a lot of previous data to draw on when sitting down to estimate construction time. For the well-organised builder using job management software, this can be simple. For those with only a pile of invoices, receipts and scrawled notes to refer back to, it can be extremely difficult.
Taking the time to sit down and review each job once complete will help reveal all the things you did wrong, the missed opportunities that may have saved you time or money and the long list of things you did right.
With all your project notes, plans, schedules and costs together in the one place, Buildxact's construction management software lets you see all this very quickly.
So you can replicate your wins without repeating your mistakes.
Don't reinvent the wheel
The long-term benefit of a robust review process is the ability to compare the insights you garner from your projects over time. This allows you to identify where and when to apply certain approaches, and see the speedbumps you're likely to encounter well before you're on top of them.
One of the great features designed into Buildxact's job management software is the ability to save projects as editable templates. This is an especially useful planning timesaver in instances where you may be replicating a project concurrently, such as townhouses, or when taking on a similar build further down the track.
With the bulk of the scheduling work already taken care of in your construction management software, based on actual build timelines that have worked in the past, you're now free to focus on the specific and minute details of the project and tweak the schedule as appropriate.
Use reliable 3rd part collaborators that understand your needs
Every build is different, but to be successful you'll always be relying on multiple stakeholders. From suppliers to trades, sub-contractors, architects and others – everyone has their own quirks, methods, challenges, and competing priorities.
While having contacts in place may protect you financially if things go south, having a solid relationship with your network and understanding their timelines, and the factors likely to cause them delays gives you far more realistic expectations on which to base your plans. At the same time, they can develop a keen understanding of your project needs and the way you work.
All this puts you in the best possible position to update and manage your clients' expectations – especially when factors beyond your control cause unavoidable delays that are not your fault.
As your project progresses, having open efficient communication channels with the people you're relying on, is most often the single most important factor in hitting your project completion deadline.
No time to lose – trial estimating software today
Learn more about how Buildxact' estimating software features can help you implement these steps toward streamlining the way you plan construction time on your builds.
Or, if you're keen to dive in, take a free 14-day test drive and experience our simple to use, fully integrated software designed for residential builders and trades like you.