To succeed in a challenging market, builders like you must consistently outshine the competition in ways large and small. 
No doubt the quality of materials and craftsmanship bear greatly on customer satisfaction, but in an increasingly competitive market, you must establish a high-level of customer service from the very beginning. 
Sending a timely quote and quickly moving a project from planning to actual construction demonstrates to customers that you can handle the smallest of details required to finish a new home on time and on budget. 
Using Buildxact to be the first to send a professional, accurate quote to your potential customer makes you stand out among your competitors so that you win more work. 
The importance of faster home project estimating 
Whether you perform the role of home project estimator or have an estimator on staff at your custom home construction business, Buildxact makes you more successful. 
Stretched thin between the office and the job site, your team has no time for complicated software. You need simple software that just works. 
Buildxact lays it all out with simple steps. The estimating tools are especially powerful because they allow you to do critical project planning using the same computer skills you use for familiar tasks like emails and web browsing. 
Unlike standalone construction estimating tools, Buildxact helps you manage all phases of your custom home project from the same online software platform.  
Once a job is won, you continue to use Buildxact to set contractor schedules and material deliveries so that your job is on time.  
Site management tools allow your team to send updates back to the office using a simple mobile app to enter daily logs. Updates also can be sent to your customers online using a cloud based portal that can include notes and photos of completed phases of work. 
Finally, Buildxact provides deeper financial insight into your business with budgeting and customer invoicing tools that improve profitability and cash flow.  
So you see, no other construction software tool matches Buildxact's ability to bring it all together under a simple annual subscription plan.s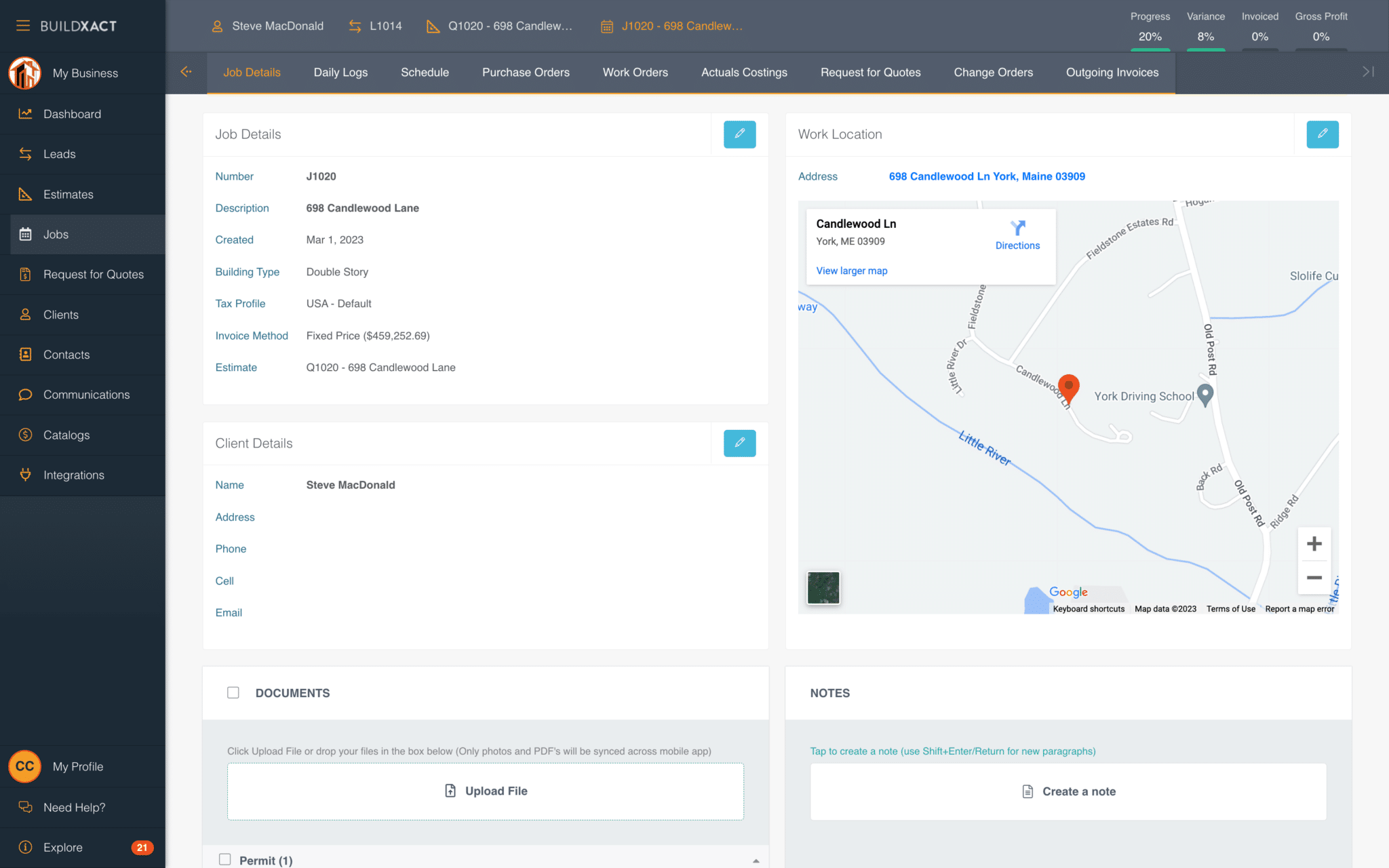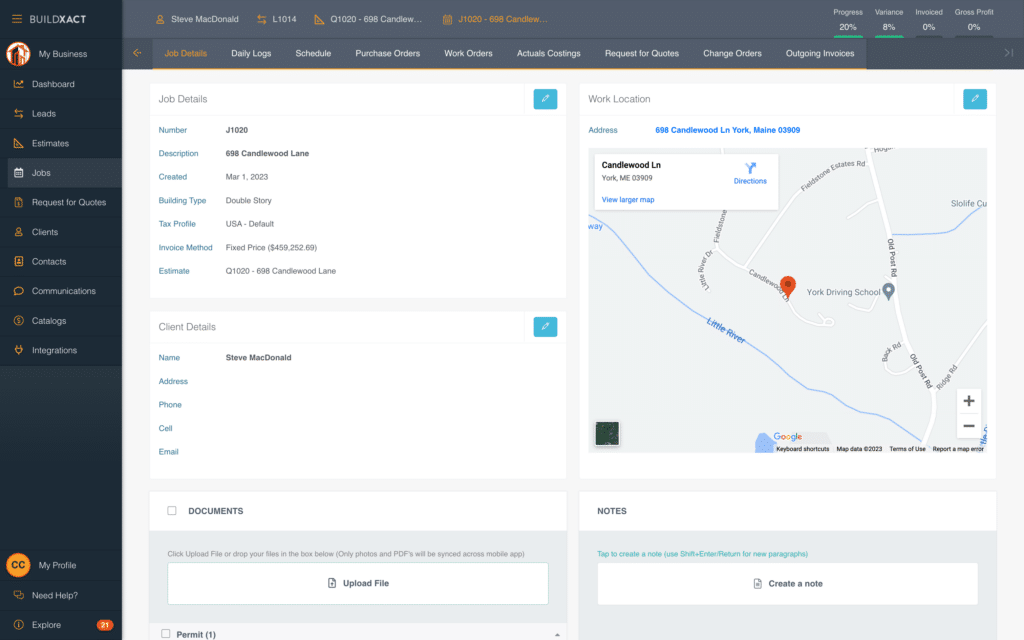 With Buildxact you can quickly setup a project, define its details and location, and upload your digital blueprints.
From there, you can scale your plans and complete a material takeoff in just a few series of mouse clicks. 
The takeoff tool in Buildxact works hand-in-hand with estimate costings that are organized by tasks you define. You can include all aspects of your build, including material quantities, labor, overhead and legal permitting. You don't need manual calculations or cumbersome spreadsheets to get it done.
You can also price labor and materials using rates that are specific to the location of your project with Buildxact's Pricing Assistant. Powered by 1build, the Pricing Assistant tracks more than 68 million data points on material and labor pricing from every county in the U.S., giving you confidence that your quoted estimate incorporates the most accurate pricing.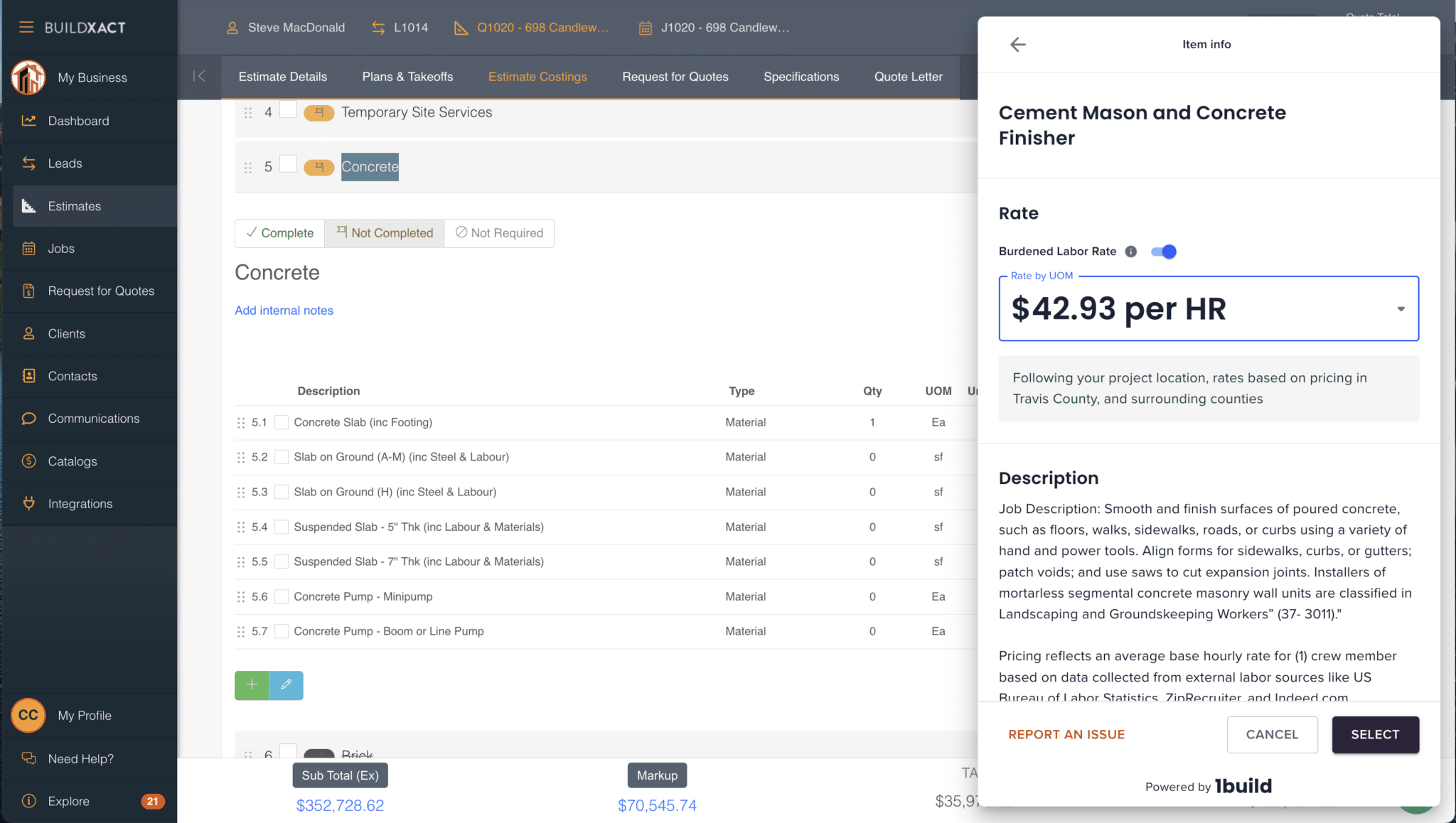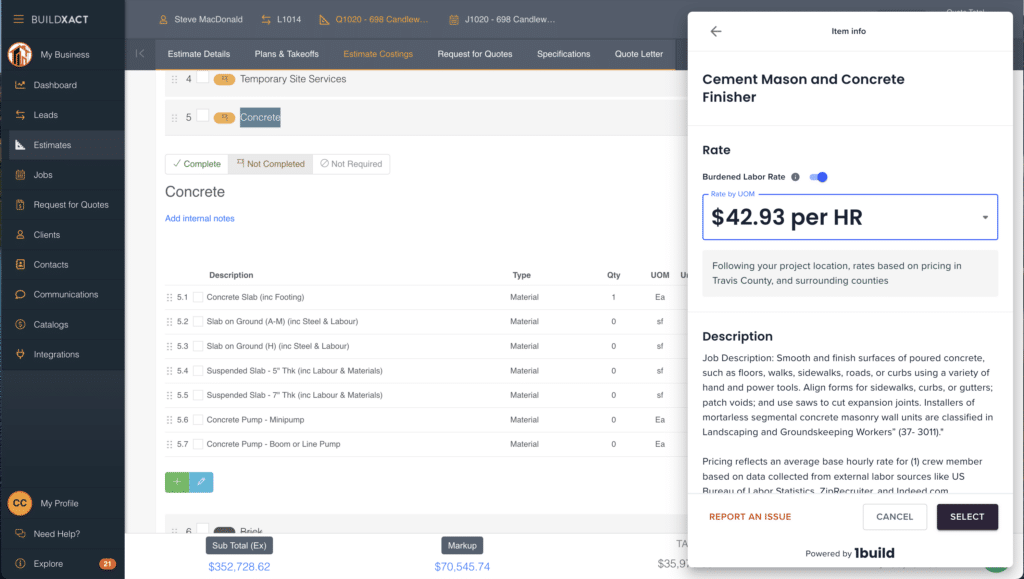 How Buildxact construction estimating software wins more work  
Quick, accurate estimates let you quote more jobs in less time and protect your business from losing business. 
Buildxact drastically reduced the time needed by Just Building Group to build estimates and get bids out the door from weeks to just days.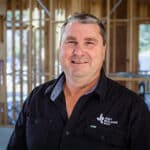 "That often makes the difference when closing a new customer," says Steve Griffin, estimator for Just Building Group. "In this environment, time is of the essence. The quicker we can get a quote out to a client, the less cold they go."
With Buildxact, you start estimating quickly using prebuilt templates that show you how to add and organize the tasks associated with the different phases of your build. You don't have to start from scratch, and a Buildxact subscription includes training and help videos to keep you going no matter the time of day. 
The key is to estimate and quote the customer in an efficient, accurate manner so that you quote as many jobs as practical for your business. When you quote more, you win more work.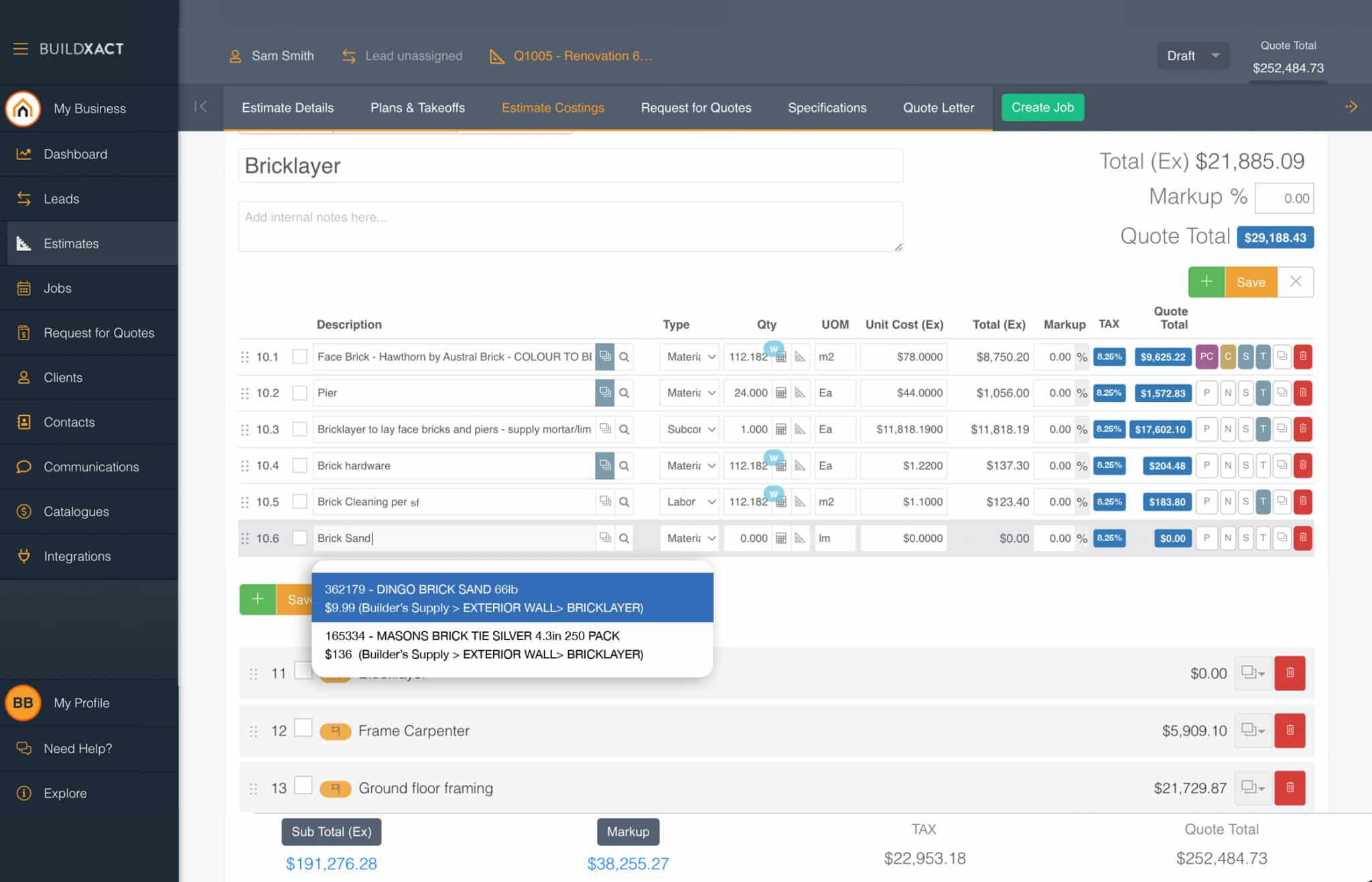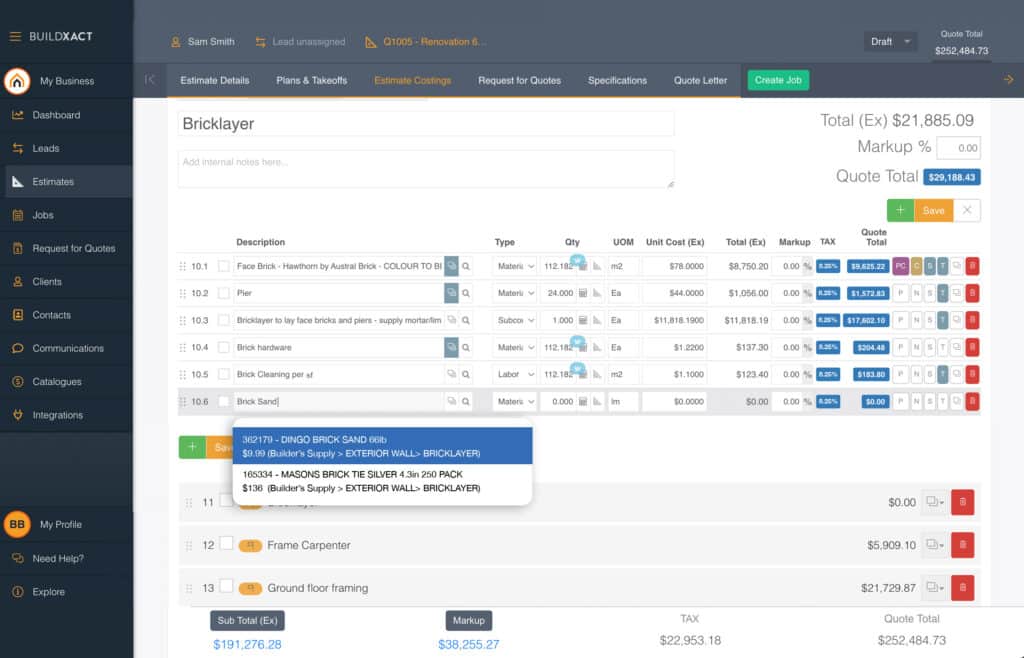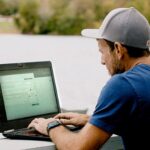 Take a look above at the layout for a typical estimate. Buildxact lays out how to build an estimate, how to connect to a digital copy of your project plans, how to scale and measure those plans with the digital takeoff tool and how to quickly complete a bill of materials for your build. 
It's easy to get started estimating with Buildxact. You can setup jobs based on your preference for invoicing projects based on fixed, cost-plus, or percentage completion.
You can also save all customer and project details that will be used in your customer quote and invoices in the estimate section of your dashboard.  
Storing everything in one, online location saves paperwork nightmares down the road, says Ron Marcella III, who started working construction with his father when he was 11. 
"The key for builders is focus and organization. Now, with Buildxact, I don't have to worry about misplacing anything and having to make phone calls again to figure it out. It definitely keeps me organized."
End manual measurements
Buildxact's digital takeoff tool lets you quickly measure your plans using point-and-click mouse functions that pass material quantities directly to your estimate costings, where you can then apply costs to those materials.
Estimate templates get you up and running 
Estimate templates show common groupings of tasks such as site preparation, framing or concrete work. As you work with Buildxact, you can expand on these tasks to build your own templates based on your most successful projects.
Having your own library of customized templates gives you an advantage because you can work more quickly using your own experience as a guide to future success. 
Templates also include item assemblies where you can bundle specific materials and labor together for repetitive tasks like door and window installations. This ensures you don't miss anything, including small material items like hinges, screws or nails. 
Use live pricing for greater accuracy 
Of course, counting and including the right number of materials is only half the story. The key to an accurate estimate is having the right pricing on your material counts.
As you know, in today's market, there's little room for error when it comes to pricing or pre-ordering your materials. One of the key benefits of Buildxact is the Supplier Connection feature. Connect with your suppliers in Buildxact to get up-to-date material price lists for your estimate and send RFQs directly to your supplier from your account to ensure you have all the materials you need for your build ahead of time. 
You also have the option to upload your suppliers' pricing catalog directly into your account. Either way, you can be sure you are working with the latest information for the most accurate estimate and customer bid.
Close the deal with online customer communication 
Once you've completed your estimate, quickly turn it into a professional looking quote letter that's customized with your company logos, brand colors, and images as well as your business contact information.
Using quote templates, you can include as much or as little detail as you'd like to your homebuyer to see with just a few clicks. With Buildxact, you can share your quote by email or directly from your Buildxact account via the  Customer Portal.Your customer can quickly view and accept your quote via digital acceptance.

Book a demo with one of our team members or start a free 14-day trial today and see how Buildxact's construction estimating software can help revolutionize your pre-construction process and take control of your residential construction business.