Residential home builders and renovators must excel at job management to finish client projects on time and on budget. Given the numerous tasks and team members involved in each home project, they understand onsite management and communication are critical.
Failure to communicate the overall schedule and daily progress needed to achieve goals is a critical mistake that snowballs into missed project deadlines and busted budgets.
The challenge reveals itself when you look at the numbers. According to the Association of Professional Builders (APB), construction pros deliver projects on time 60% percent of the time, which is great. 
However, if you dig a little deeper, you'll see projects also run over budget 38% of the time, which is not so great.
So why is this the case? According to the APB's 2023 State of Residential Construction Industry (SORCI) Report, it's because builders and contractors are paying high prices to subs to keep them on site to make up for lost time.
Clearly, running behind costs money. It's critical that builders know how project tasks are progressing on site at all times to avoid:
Late material deliveries
Inefficient use of subs short on supplies
Rushed work that leads to poor quality
Expensive rework
Lower profits
To avoid problems like these, builders and remodelers turn to construction management software to schedule work and keep a site diary. With proper site management, scheduling and documentation, builders ensure better projects, better results and happier clients.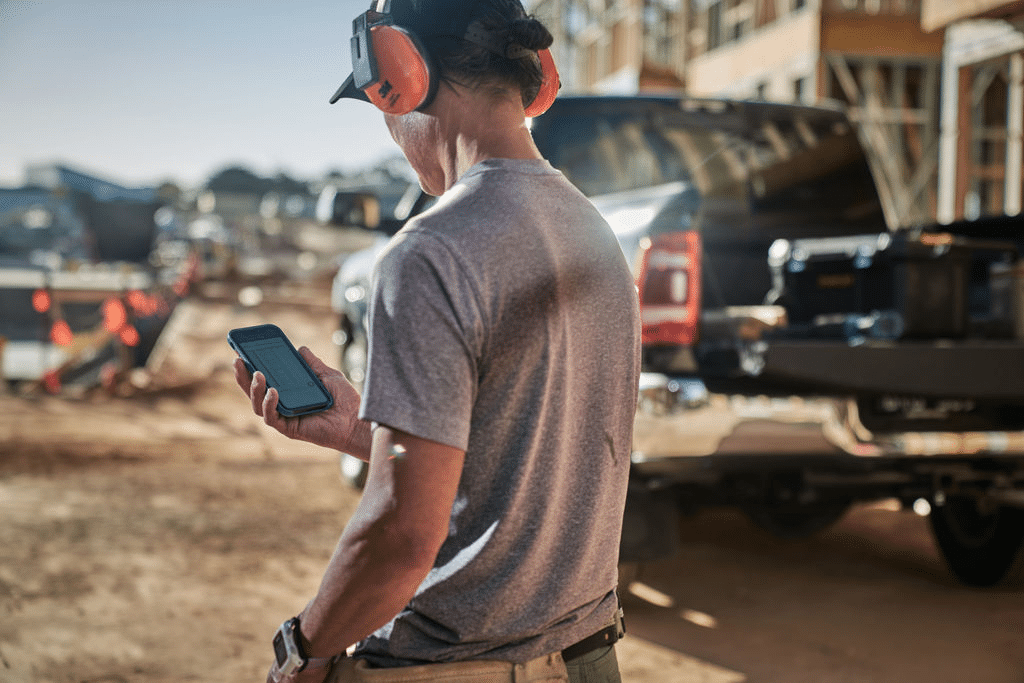 Buildxact construction management
Home builders in a competitive environment work hard to win jobs. It's not an easy task, but winning a job is just the first of a series of tasks that builders must execute with perfection.
Once a project is won using an easy-to-follow quote that accurately lists costs for material, labour and overhead, the successful builder quickly moves the client into the planning phase of the project.
While planning a project includes many things, including the procedures for getting a job done, there's no doubt the most critical part of the planning process is scheduling work in the proper sequence.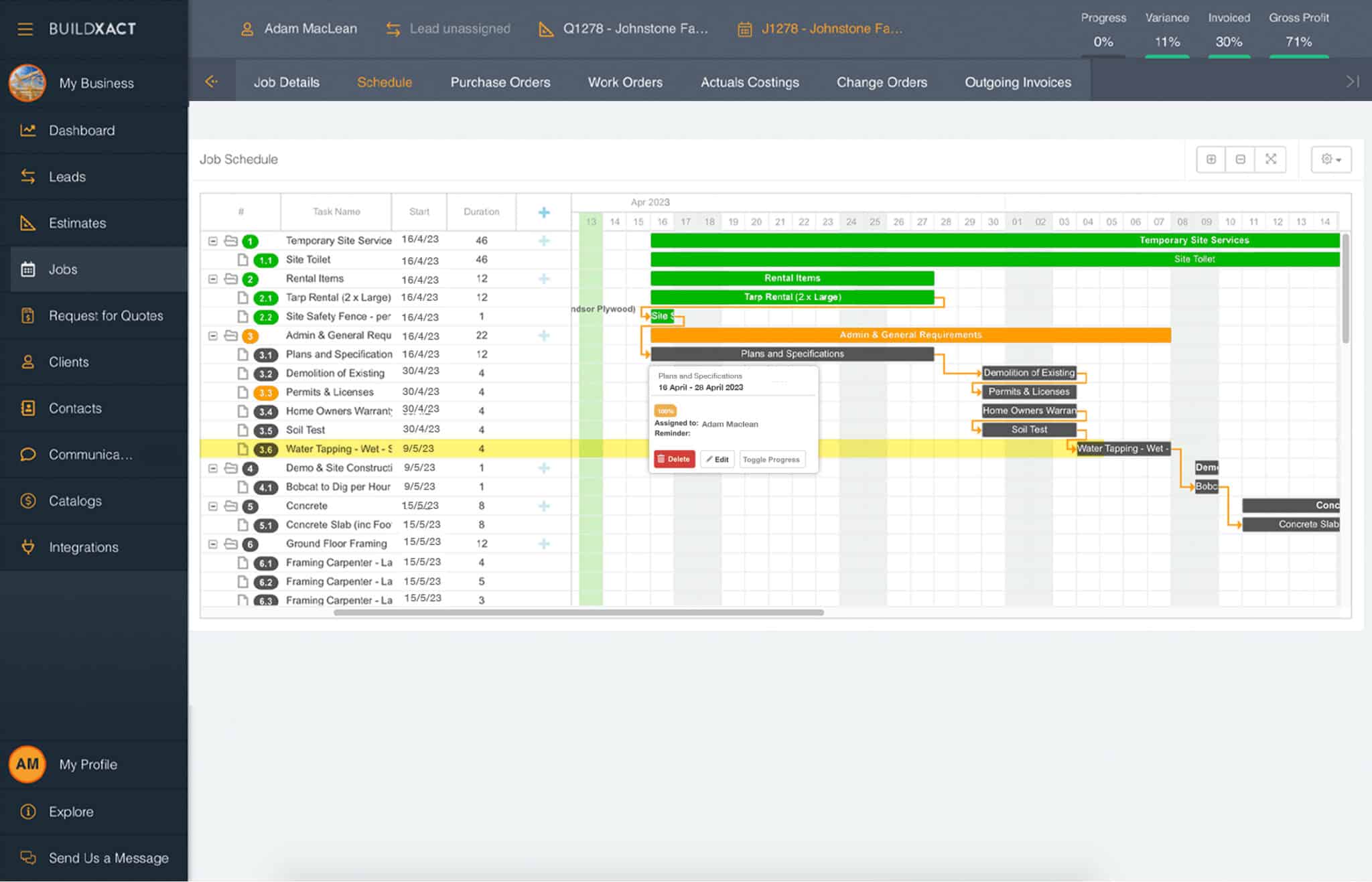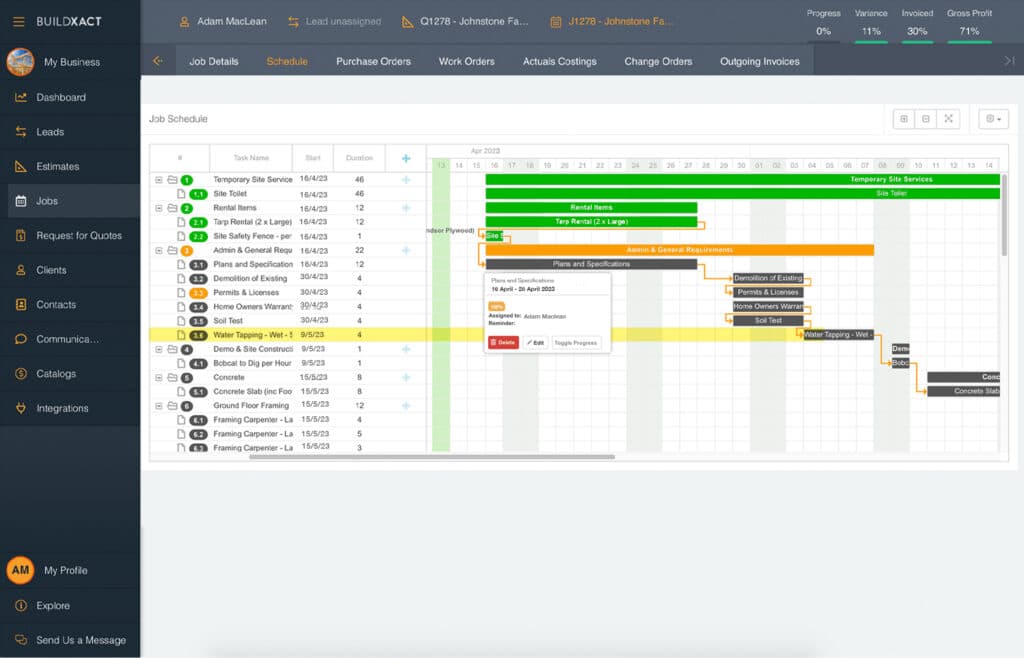 In most cases, a builder has a rough schedule already laid out in their mind based on the experience of past projects similar in size and scope.
But with construction management software, builders quickly take these ideas into a real-world schedule that accounts for the specifics of the current project. The schedule quickly becomes more detailed as the construction pro pulls parent tasks and subtasks into the schedule.
How Buildxact scheduling has you covered
In the sample above, you can see a construction project with all the milestones mapped out. You can populate your schedule with tasks straight from your estimate or you can add individual tasks as the need arises.
What's key here is that you can save schedules as templates to reuse later. All the tasks, sequencing and durations are saved within the template. The template is a time-saver because you don't have to create schedules from scratch. Past work carries over to benefit your future business.
In the sample above, you can see preliminary tasks common to an overall build. You can see early tasks, like utility setup and permitting. You also have overhead items like rental equipment, which are critical to understanding the overall cost of a home.
Finally, you have major milestones or parent tasks in the actual build, like foundation prep, framing, roofing and the like. It's all there for all to see.
What's great about construction site management software like Buildxact is that you can set the start and stop dates of these parent tasks with a simple click-drag-and-drop of your computer mouse. You do this by editing the start and end dates of the parent collection of subtasks.
Builders can update the progress of tasks in a few simple steps. As tasks update, it's easy to see the overall progress of the project. You can also set dependencies by linking tasks together.
Setting dependencies is critical because it allows you to set lag time between two different tasks. For instance, if a certain number of days must be kept between the completion of a foundation and the beginning of framing, that set time can be kept in place even if the foundation's completion date changes.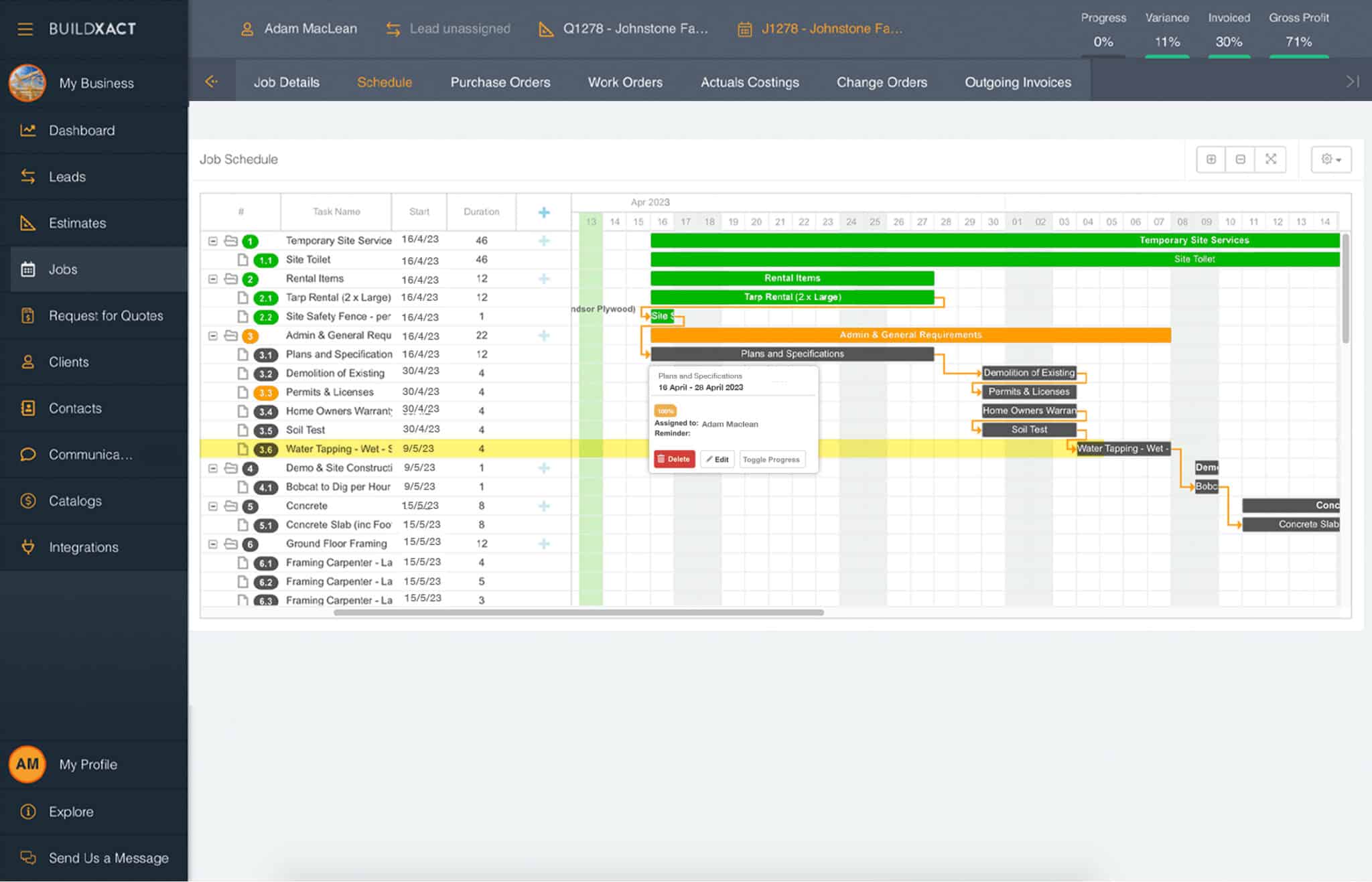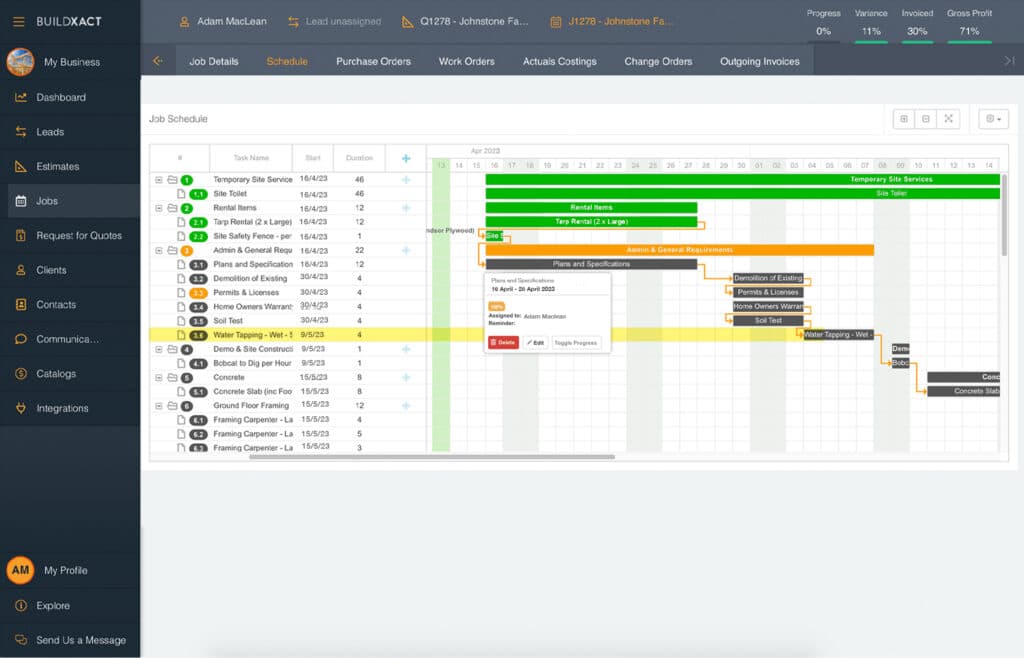 As tasks complete, you can turn these items green, which updates the overall completion rate of the project. Tasks running behind schedule can be set to red or orange depending on urgency.
Buildxact scheduling allows you to assign tasks to specific subcontractors from the very beginning of the project. You can also set up email or SMS text reminders so that work teams are on site when needed—even if that date is weeks away. Buildxact messaging sends out the reminders for you.
Buildxact also provides a second way to keep work teams up to date through a site diary in the Buildxact Onsite mobile application.
Buildxact Onsite communication
Buildxact recently rolled out a new mobile site management tool called Buildxact Onsite. With this app, teams can post and view progress on specific jobs. 
With Buildxact Onsite, project managers, subcontractors, or any project crew member can upload progress photos from their smartphone while on the job site and have it automatically sync to the job in Buildxact's desktop app, which contains the scheduling discussed above. This allows the site team and administrators back at the office to stay on the same page.
Let's walk through a demonstration to illustrate the importance of builders having proper on-site communication:
Let's say your home construction team is preparing the building site for a custom home that requires special care and equipment with soil compaction. Because the soil compactors and rammers are in short supply around the build, it's critical you know when the team is ready to begin working with this equipment.
Now, let's say this project, which is too far away from you to visit, has poor soil drainage. It requires extra care when clearing the debris and vegetation. If your team has Buildxact Onsite, they can send pictures of how the work is progressing, and as these photos reach you, they are documented within your Buildxact project. Here, you can reference and share them with the client as needed. You also can share photos with suppliers as you request added equipment via an RFQ.
Critically, this site documentation is done in a quick and easy manner that doesn't bog you and your team down with paperwork.
Documentation not only informs the client of unforeseen circumstances; it also protects your business from having to cover the potential cost increases that come with unforeseen construction delays.
Also, when you see what's been done, updating project schedules is easier. Timely updates and documentation of progress and the closing out of scheduled items, initiates quality control inspections and timely payment of subs.