5 minute read
Despite lockdowns, the construction industry in Australia is in good shape. Will the end of government assistance lead to a bumpy road ahead?
Lockdowns and challenging news dominated many people's lives in 2020. But, things are looking up, especially for residential construction in Australia. Buildxact's Residential Construction Activity Report (H1 2021) data shows a positive trend in the industry based on the first half of 2021. Win rates for builders continue to show signs of stability, despite fluctuating demand.
Overall, the residential construction industry is rebounding from the pandemic. Despite lockdowns, builders showcased their agility and adapted. The government provided much-needed assistance to homeowners via the HomeBuilder Grant and enacted changes to stamp duty policies, which had a trickle-down effect on builders.
There was steady growth throughout Australia, and demand for custom home builders saw continued growth during the first three quarters of 2020. The average number of estimates even increased 6% from Q1 to Q3 2020. As expected, the industry saw a seasonal dip in December, resulting in a 24% decline in the average estimates per builder from November results. This trend recovered in February 2021 and peaked in March; however, average estimates per builder saw a 13% decline in April, in line with the end of the Government Home Builder Grants.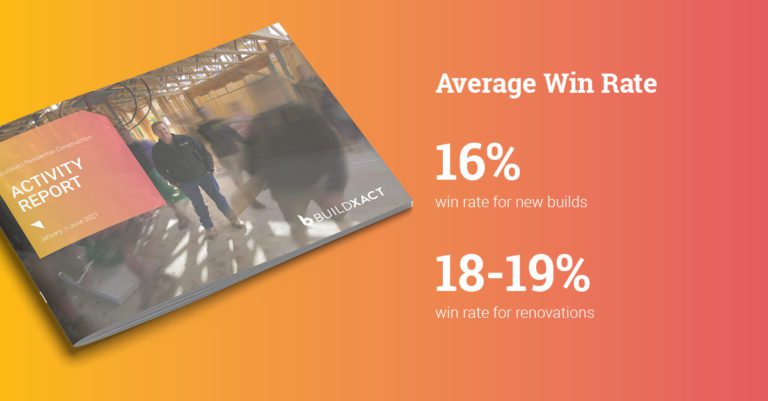 When one takes a closer look, it is clear some states suffered more significant impacts than others.
Victoria was the hardest-hit state in terms of lockdowns. Despite this, there are plenty of signs the residential construction industry continues its road to recovery. Demand for residential builders remains higher than pre-COVID-19 days. The number of estimates per builder for new builds and renovations is also trending higher. But, it's not all positive news. The ongoing average number of estimates for new builds during the first half of 2021 is lower than its peak during Q2 and Q3 of 2020 — the height of lockdown.
The main story out of New South Wales is that demand for renovations remains below 2020 levels, meaning there are no signs of recovery. In Queensland, the demand for new builds remains strong. Builders are benefiting from increased demand and value for new builds, which has led them to enjoy a 27.3% increase in the average margin for new builds. And in Western Australia, despite reduced demand in the first half of 2021, it saw the most robust growth levels across the entire country. Builders there have increased their margins, and as a result, their profits.