It's easy to imagine the effect construction job management software will have on you and your construction firm. Imagine having more time, wasting less money, and having happier customers, all while growing your small construction industry business.
You don't have to just imagine it though. Let's have a look at how construction job management software tools benefit you.
Before you can decide if job management software tools, like Buildxact, are right for your business, you need to understand what the software does.
What is Buildxact job management?
Construction software solutions within the Buildxact platform are job management tools that improve the quality of your construction activities. Buildxact handles everything from:
detailing your project's scope and specifications
creating contractor quotes and customer bids
planning and assigning tasks
tracking business expenses
creating material orders
and sending invoices.
It also includes features that offer visual project scheduling, document management, cloud storage and more.
Construction job management software tools within Buildxact have everything you need to get your projects finished on time and on budget, and it has the tools to take control of your project planning.
Should you use construction job management software?
Builders, project managers, contractors, project team members, construction professionals and anyone else that is involved in managing construction benefit from the tools offered by construction management software. Each person may have a different use for the construction software tools:
construction managers need to track progress
subcontractors need to communicate when on site
clients want to know tasks are on time.
By using job management software everyone involved can find out real-time job costing information. In particular, builders can communicate effectively with material dealers on a single collaborative platform that offers complete transparency on material prices.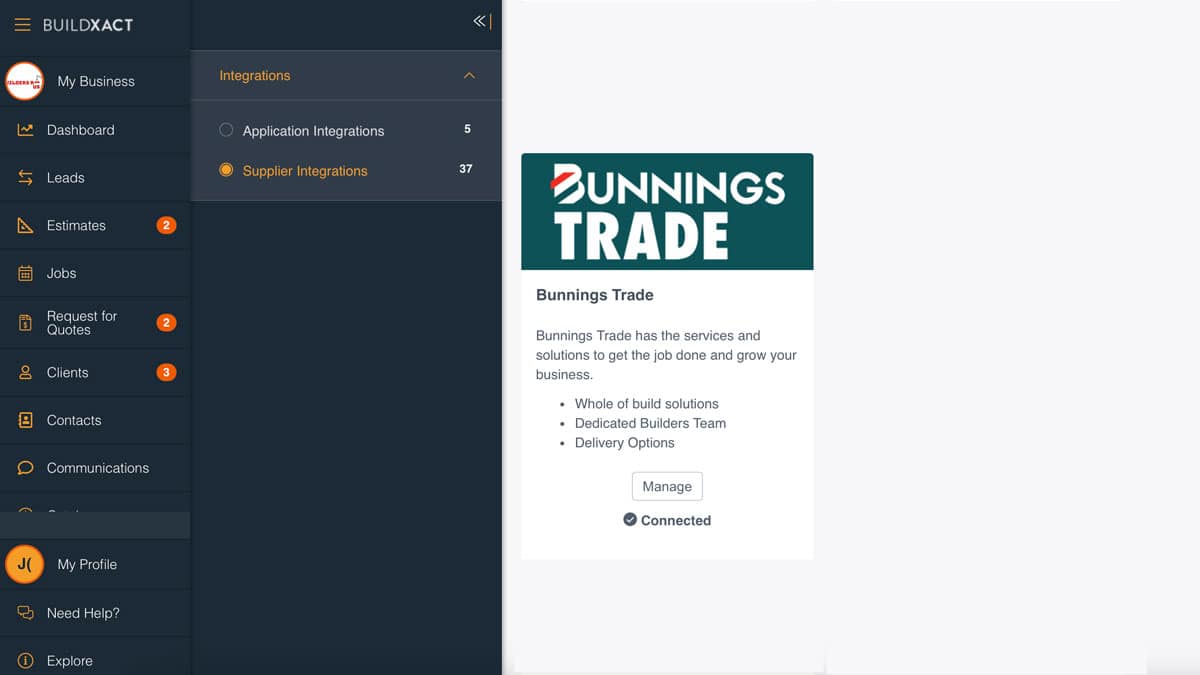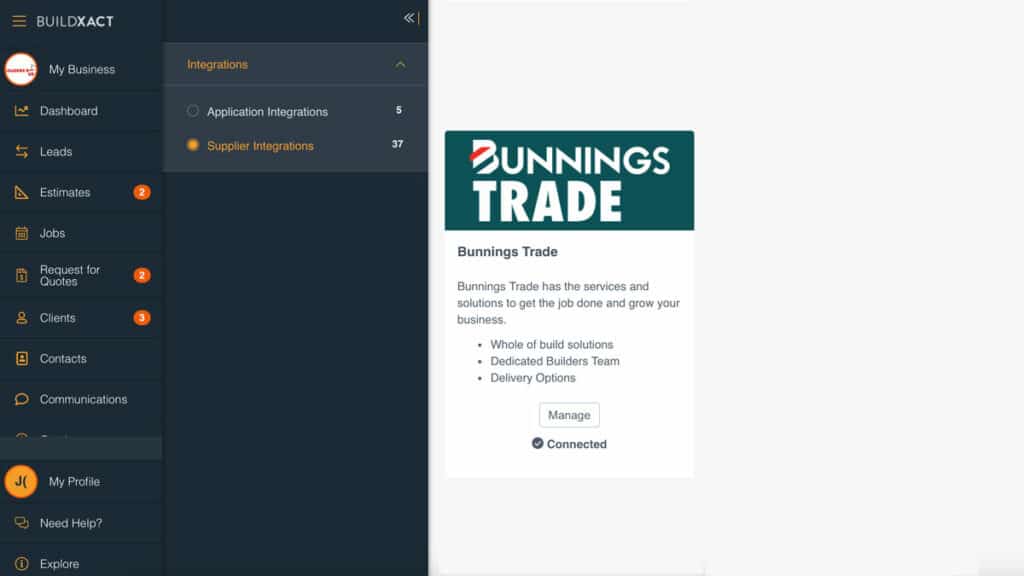 Benefits of construction job management software
There are many other benefits of using a job management software solution. Below, we will go into a few of the benefits for small construction businesses in more detail:
Simplifies the management process
If you are a home builder trying to complete a project while bidding for others, or you're a construction project manager, and you are juggling a lot of people and projects, then simplifying the management processes is essential.
Tracks expenses and budgets
A critical aspect of completing a successful construction project is cost control and budget management. If you don't know whether your actual costs are tracking with the estimated costs, then you won't know when problems arise.
Getting this information in real-time can save time and money, allowing quicker decisions. Job management features that integrate with your construction accounting software will keep your project budget on track, quicker and easier.
Remote access
Good construction job management software, like Buildxact, allows you more time away from the desk by providing remote access to your construction management tools. 
All you need is a network connection and a laptop, tablet or a smartphone, and you can get out there and do more site management, instead of spending time in the office trying to keep everything monitored from behind a desk. Your team can also access all of the project's details whether they are onsite or in the office.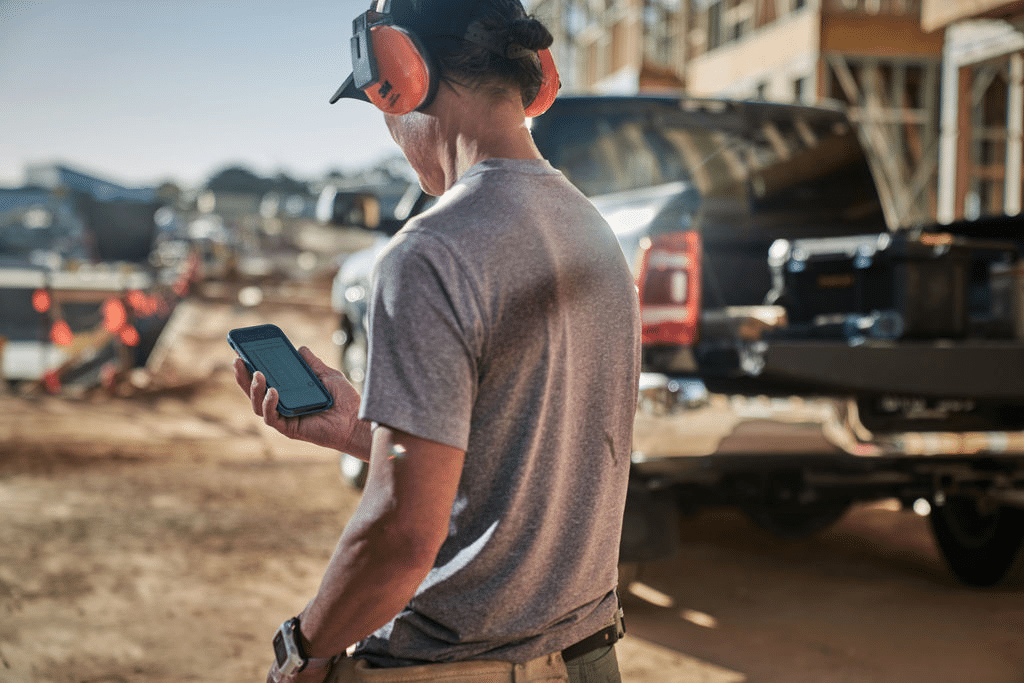 Having construction job management software that you can access from anywhere makes your projects run smoother. Perhaps, you are out at the construction site, and you get a call that a piece of essential equipment will be arriving two days late. Straight from your mobile job management tools, you could assess who and what part of the process is affected. You could then rearrange things, contact all the relevant people and avoid wasted time and money.
Maybe you're a small builder and you've taken the day off to see your child win an award at school, but there's an issue onsite. Two contractors aren't on the same page and are disagreeing on how the design of the house should be. You've tried to handle it over the phone, but they're not understanding. So, your only option is to go down there and sort it out.
However, if you have cloud-based job management tools, the two contractors could access the relevant information right from their smartphones or tablets. They could solve the issue while you spend, well-earned, time with your family. You would stay informed of the project's current status without being there in person, making everyone happy.
Easier collaboration and sharing
Using construction job management software makes collaborating with your project manager, workers and contractors much easier. They can use the team calendar to see when they have been assigned to a job, when it should be completed by, and with whom they need to work.
If issues come up, they can be quickly dealt with and those impacted can be communicated to within the one forum. When everything is kept together, information or people are not left out of the loop. 
It is the same with sharing job information, keeping it all together with the right construction job management solutions means no more missed emails or messages. Alerts can be set up to inform the relevant people as change requests occur, avoiding delays and business losses.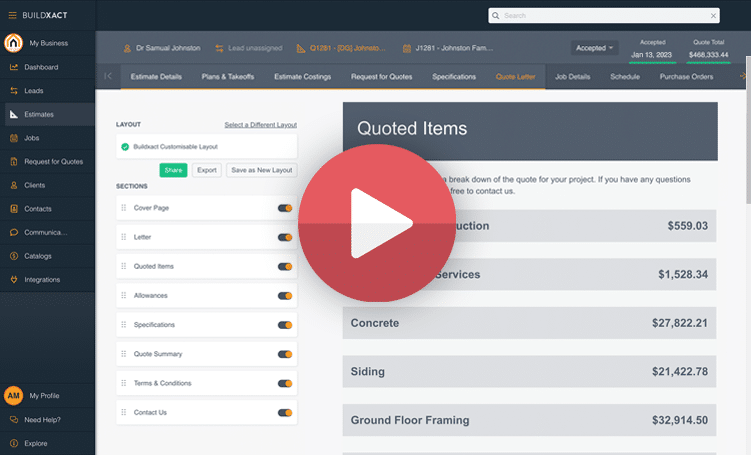 Document control
In any construction project, a great deal of construction documentation is produced and must be stored. Historically, everything was printed on reams of paper then stored in the office in a row of filing cabinets. However, now we can store all the documents virtually.
It also means wherever you are, you can access any documentation or information, allowing for more efficient business processes. No running back to the office to look things up or phoning someone at the office, explaining what you're after and waiting for them to find it. All of it wasting your precious time. With construction software you can access everything from your phone or tablet.
The other advantage to management software document control is that you can have templates uploaded that standardize all your construction documents. They make sure your construction company and your team always look like the construction industry professionals that you are.
Integrations with other software
Again, it's all about convenience. By integrating with other software like your construction accounting software (Quickbooks, Xero, etc.), then two jobs can be achieved at the same time. Allowing much more efficient management of your business income and expenses.
Consistent estimating
Nothing looks less professional or unreliable than estimates that are all over the place or bidding for jobs that your business processes can't achieve. It looks more like guess and hope than actual detailed estimating, and it will lose you more jobs every time. 
Construction management software looks at the scope of the project and its feasibility. It also uses historical data from your previous jobs to estimate the time the project will take and the project costs. You will know early on if the project suits your business model or not.
Accurate quotes and estimating
The crux of all construction projects is making a profit and keeping your construction company customers happy. To do that you must provide accurate project quotes and costings. Your construction management software can perform a building materials quantity takeoff and estimate the construction costs, including direct and indirect costs in about 80% less time than the conventional way. By using software you can access an updated database of material costs from your supplier, giving you accurate prices. Imagine how much time that saves alone.
Another benefit of our construction management software solution is the ability to track your construction projects in real-time. This allows you to notice issues before they happen or to fix them as quickly as possible when they do occur, helping you to avoid costly delays. Making sure timeframes are met is crucial to successful construction project completion and to keep your customers happy.
 Simplifies and quickens reporting
Creating a construction managers' report has never been simpler with construction job management software tools. You can use a standard template or create your own template for your construction team to use. Not only does construction software allow all the relevant information and reports to be kept all in one place, but it prevents the use of numerous email threads that get lost or deleted.
Quicker reporting means you can address problems faster and avoid delays. A simplified report means anyone can understand them without having to have construction industry experience, meaning even a layperson can find and understand the information they are looking at in the reports.
It's all these wonderful benefits of using construction management software that makes it so invaluable for all construction firms, big or small. Don't just imagine the free time and less stress, put construction management software to work and enjoy more family moments.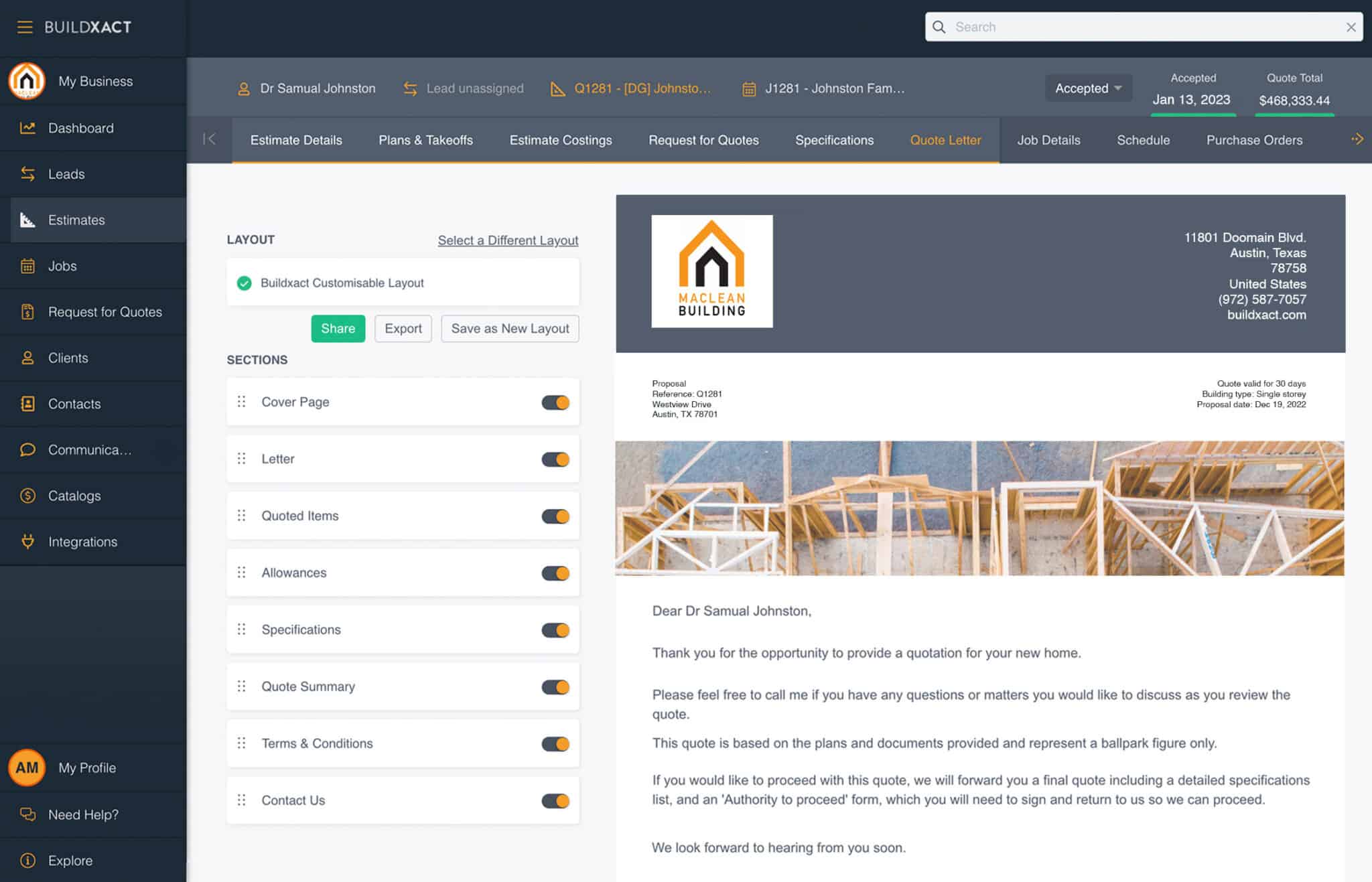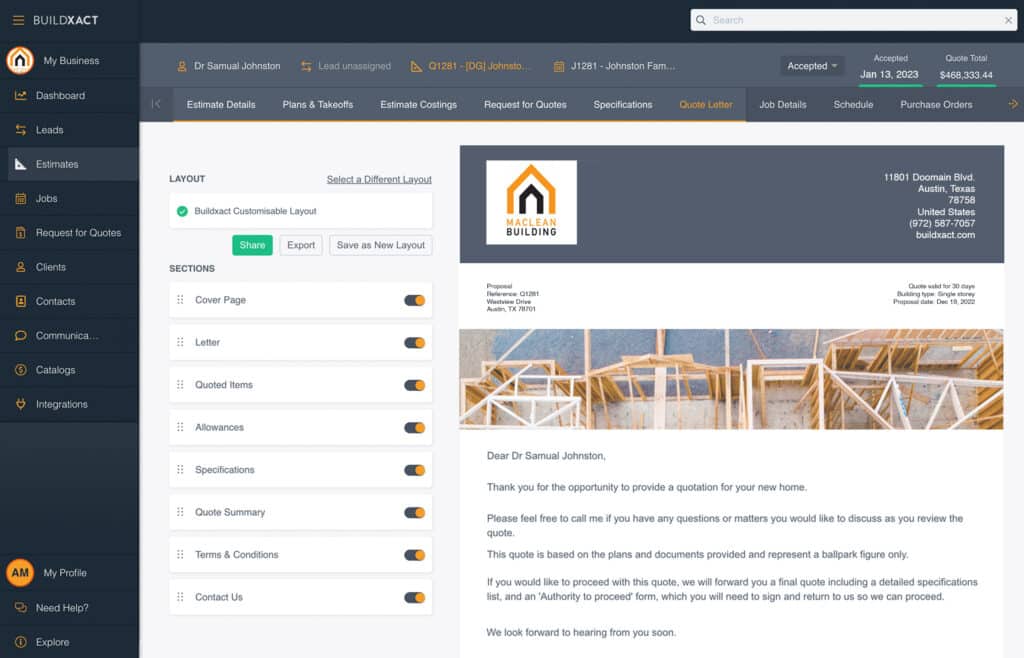 Construction management software helps business growth
There are a lot of costs associated with starting up your own business and maybe you think "why add more costs when you can achieve all the managerial elements the software can do, old school – by hand, using spreadsheets and a calculator?"
It's true, you can, but you will most likely lose more jobs. Doing the process by hand is slow, inaccurate and subject to human error. What you really want is to save time, be accurate and win more building projects.
Using construction job management software will benefit your construction company by helping you decide which jobs are not feasible for you, creating accurate and professional-looking project quotes that win, building your reputation as an honest reliable construction firm and increasing your customer satisfaction. You'll also find yourself ahead of the competition.
Those who run small construction companies often wear many hats: boss, job management, negotiator, contract creator, quote preparer, parent and partner. All of them take time and energy, so anything that can cut the time down by up to 80% has got to be worth looking into. If it helps you grow your construction business, yet gives you more spare time while doing it, then you've got nothing to lose with construction job management software.
Choosing the right construction management software
There are plenty of construction management software solutions on the market these days so how do you know which one is right for you?
The program must be easy-to-use and easy-to-understand. There is no point in spending money on something you can't understand how to use or that takes weeks or months to master. So, the construction software providers must offer follow-up customer support for easy assistance.
It should be cloud-based so you can have remote access and perform document management wherever you are.
The software should allow other users to access information, communicate or check their job schedule.
The cost has to be reasonable, and the construction management software you choose must save you time and energy.
The easiest way to get started using construction management software is to start a 14-day free trial or book a demo with Buildxact.
Take back your time, control and monitor your projects, communicate better, have greater transparency and grow your business with us. Book your demo or start your free trial today.