A construction estimate is the most crucial part of winning building jobs and is key to any successful project completion. Whether it is a new home, a renovation or remodel, an extension, a civil or commercial project, an accurate construction cost estimation ensures a builder's profits.
Because producing a construction estimate is time-consuming, it is often undervalued by custom home building businesses and remodelers.
Because we understand the value of accurate, efficient construction cost estimating, we'll explain how to produce your own construction cost estimate quickly, accurately and professionally.
What is estimating in construction?
In the construction industry, the estimating process looks at the project's scope of work–the design, labor and materials costs, the amount of time the construction will take, the site location, and any possible issues that may affect the overall costs. This totals to a preliminary cost or an estimate of the construction project.
Who does the estimating in construction?
Who shoulders the responsibility for producing a construction estimate depends on the size of the company.
A large construction business dealing with civil or commercial projects more than likely has a dedicated team of cost estimators. In some cases, calculating estimates may be left to construction managers or, in the case of a custom home builder, a general contractor may perform them for themselves.
With good quality construction estimating software creating a detailed cost estimate can be done quickly and accurately by just about anyone on staff.
Why is an accurate estimate important?
Construction estimates can make or break a building project, and the company doing the building. Construction job costs can balloon out of budget range just by making a few mistakes in counting materials or in calculating the construction time. Material cost estimates are especially important during times of fluctuating prices, and estimates can be inaccurate if not sent out to the customer in a timely manner.
To ensure your profitability and successful project completion, accurate, timely cost estimates are vital. They must include direct costs, overhead costs, allow for a suitable profit margin and consider contingencies in case something unexpected occurs during construction.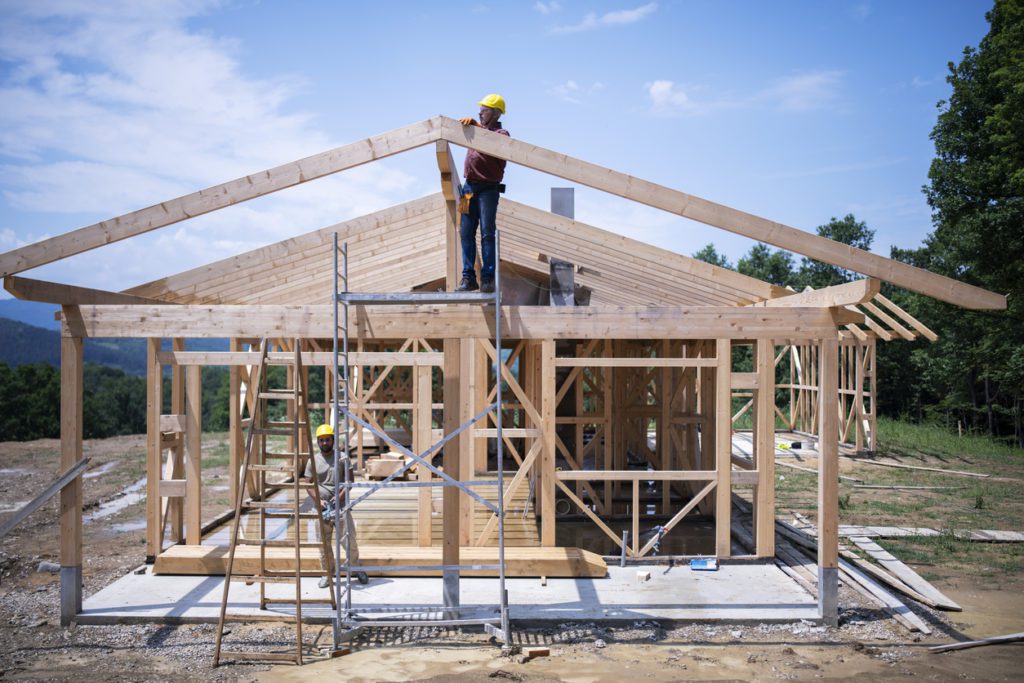 Identifying types of construction cost estimates
There are five types, or levels, of construction cost estimating. At each level, the accuracy of the construction cost estimate increases through the use of more accurate data and reference to the project's construction specifications.
Let's take a more in-depth look at each level in the construction estimating process.
Level 1: Order of magnitude estimate
The level one type of estimate is the roughest of the estimates. This one is performed before the project begins and determines if the project is even worth exploring. It looks at the scope of work (order of magnitude) for the project and uses some historical data from either your previous builds or from a database of project costs to determine a very rough cost estimation.
It also has to include data that describes the location of the site, any labor or material shortfalls that may occur, and any weather issues that may affect the work. All of these can affect the actual costs.
By looking at past projects and the specific needs of the job, a project's overall feasibility can be assessed before you get too involved with the project and risk losing money.
Level 2: Schematic design estimate
The next intermediate estimate, at level two, brings the actual design of the project into the mix. At this stage, the client's vision has been transferred to blueprints and initial drawings. With this, a slightly more accurate estimate is produced.
This step allows issues that may occur during the construction process to be noticed and addressed early before building commences. Such as unsuitable materials for the design or drainage problems. Changes to the design or the building process can be made now if necessary.
Level 3: Design development estimate
Here, at the main design stage construction drawings and blueprints become more detailed and include any changes that have been made. It is also called the preliminary estimate.
This is the estimate that financing and budgeting decisions are usually based on.
Level 4: Construction document estimate
Sometimes an owner/client will send out a set of construction documents to builders they would like on their project. A substantive estimate is performed based on the information in the construction document package.
Level 5: Bid estimate
This is the most detailed, definitive estimate. The bid estimate is developed as the formal answer to a tender or bid request. It is the most accurate project cost estimate and is also an opportunity to showcase your business and its professionalism. The construction documents included in the bid package will explain when and how the cost estimates are to be presented and returned.
Your bid estimate must be clear, concise and easy for the homeowner to understand. Often the quantity takeoff includes pictures of materials along with their prices so that everyone knows exactly what items are to be used and what the material costs per unit are, too.
Common mistakes to avoid when estimating construction projects
Making mistakes with your estimate is easy enough to do, but mistakes can end up being very costly–even small ones. Either you won't win a bid, or errors made with direct costs eat into your profit margin because last-minute price increases can be difficult to pass to the customer.
For example, consider a big job with over 1,000 door handles, if they have been forgotten in the quantity takeoff, you will find yourself paying thousands of dollars for the handles out of your own pocket. Just as worrisome, the client might wonder why your estimate is so low, question its validity and ignore your bid response altogether.
Some of the more common mistakes that can happen during the production of a construction estimate include:
Forgetting to include materials or counting them inaccurately – Like with the door handle example above;
Making bad calculations – An out-of-place decimal point or incorrect measurement can derail the estimated costs;
Not considering the cost variances for different geographic locations – price lists can vary by the location of your dealer; using a price list not local to your project or construction site can be costly. Perhaps it is more expensive to purchase materials or equipment locally, but delivery costs may be out of line if you are shipping a long distance – either way, basing costs on the wrong prices is a mistake.
Omitting costs like maintenance costs, administrative costs and other costs – not considering overhead involved with the running of your business will lower your profit margin. So, don't forget to add them to your final project estimate.
Not visiting the work site – you must understand any problems that the area may have. Maybe drainage or site access is an issue, without visiting the site you may not realize these things need to be addressed so you may not allocate enough labor to these jobs.
Not completing a risk assessment – hasn't been performed, nor has a contingency plan/fund been considered. If you haven't considered, for example, how a labor or material shortage can affect the build, and who is liable for any associated costs, then your business may suffer.
Not considering project-specific needs – every project has its own special cases. Forgetting this can be a costly mistake. For example, an eco-friendly, or green, build will be more expensive than a standard build. If you haven't included the build specifics in your material cost, then you will either lose the bid or be losing profit.
To reduce the risk of making mistakes with your cost estimate you can use a checklist to ensure you don't miss anything. However, we recommend that you take advantage of estimating and construction management software to manage this task. It is more accurate, and using software can save you up to 80% of the time needed – a critical difference when your estimate is time-sensitive.
How to accurately perform estimating in construction
As we previously stated, the best way to perform quick and professional-looking, accurate estimates is to use good quality estimating and takeoff software.
Many large construction companies understand the advantages using software has on their bid estimation process. However, too many custom builders, general contractors or remodelers say that software is an expense their profit margins can't afford.
What they don't realize is that by using quality estimating software their profit margins will improve long-term, their business will grow, and they will complete more jobs on time and within budget. In the long run, the software and the time invested in learning to use it easily pay for themselves.
Let's look at some of the advantages of using quality construction estimating software.
Save time – bid invites have a return date attached to them so you need to have an accurate construction estimate completed within that time. Being able to perform a quantity takeoff in 80% less time gives you more time to work on other aspects of the estimate and ensures you avoid being burned by rapidly increasing material prices.
Accuracy – software decreases the chances of human error in counting materials and calculating unit costs. When counting materials, it is very easy to be distracted and forget the exact number of units needed. A mistake inaccuracy can be very costly.
Time management – a timeline for construction can be easily made, referred to and used to keep the project on time. Sticking to a timeline is crucial, not only for the on-time project completion, but it is especially crucial for projects that need to start earning a return before final completion. Such as an apartment building where sales begin before completion.
Project management – again, software makes managing all aspects of the project easy as everything can be accessed from the one platform. Perhaps materials aren't available when they were expected, instead of holding the project up, the project manager can rearrange work schedules and contact their team through the software. And with software, schedules can easily be reviewed using charts that show the different subtasks and their dependencies. This helps ensure contractors show up at the job site at the right time.
Construction drawings – blueprints can be scanned into the software and read by the system to make quantity takeoffs less time-consuming, and software makes the project scope easier to understand. Instead of converting the 2D image into a 3D image in your head, it is converted on screen for much easier viewing and comprehension.
Online Databases – you can use software to upload your suppliers' price lists, or you can include a database of past projects where you can pull up a particular project at any time, or a list of contractors you've worked with and their contact details. Whatever you need can be at your fingertips.
More Professional – the construction estimating and management software will help your business look more professional by producing accurate estimates and allowing the customization of documents.
Document storage – cloud-based software allows you to scan and save all your project documents together where they can be easily accessed. Whether it is the project specifications or the signed contracts, keeping the documents together in cloud-based software makes it easy to refer back to them. Staying organized keeps you responsive to your customer.
Communication platform – if you've ever tried managing complex projects, with dozens of contractors and workers, then you understand how hard it is to have effective communication between all the relevant parties. With estimating and construction management software, all the communication can be done, by email or text message, from one platform, where it can be easily referred to if needed.
Mobile access – having all your documentation and information all on one platform is great, but if it's all stuck on the computer back at the office, then it's not much help when you need it most (probably when you are miles away at the job site). That's why using cloud-based estimating software is optimal, you can access it from your smartphone, laptop or tablet, anywhere you have internet access.
Build your business – when you produce accurate and professional estimates, you win more bids and earn a reputation as a reliable, honest builder. Good software also will help with your project management, sales, and marketing.
Integrated invoicing and accounting – by connecting your accounting software with your estimating and construction management software, you can easily send customized invoices, pay your accounts, and manage your budget–all from one platform.
When accurate estimating is so crucial to winning bids and making a profit, why waste time and effort on an inaccurate, unprofessional, time-consuming and inefficient estimating process?
For accurate estimates that win you bids, try our Buildxact estimating and construction management software with our 14-day free trial or book a demo to see how our estimating software can help your construction business, big or small.
Join the construction professionals and take back your time, build your business and make more money with Buildxact.