In an industry first, Buildxact's latest features deliver an end-to-end platform for suppliers to work collaboratively with builders throughout a job – from estimating and quoting to material ordering, delivery, and invoice.
Both suppliers and builders understand the importance of quick responses, availability of stock, and fast delivery. In today's world, the sales representative relies on getting accurate and timely information from the builder to be able to provide the support builders expect, and the sales rep wants to deliver.
When quote requests come in through email, phone, walk-ins, or the back of a carton, it can be difficult to stay on top of it all, let alone the changes that inevitably come through once the first quote is shared. All the back-and-forth costs suppliers and builders time and money.
But what if the situation was reversed? What if the builder could access prices to complete quotes at a time that suited them? What if the sales rep could proactively support builders with quotes before they submit a quote request? And just what if the sales rep had insights into the builder's business to create a tailored response?
Buildxact can help suppliers and sales reps deliver value add services to their builders to grow customer loyalty and simplify the sales process.
Save time managing builder requests
With Buildxact's collaborative Request for Quote feature, sales reps can seamlessly capture all builder quote requests and promptly respond on Buildxact using templated estimates and integrated price lists.
One of the challenges sales reps reported is ensuring they have all the information needed to quote accurately and quickly. When a request for quote is received on Buildxact, the sales rep can view all corresponding plans, documentation, and takeoff shared by the Builder.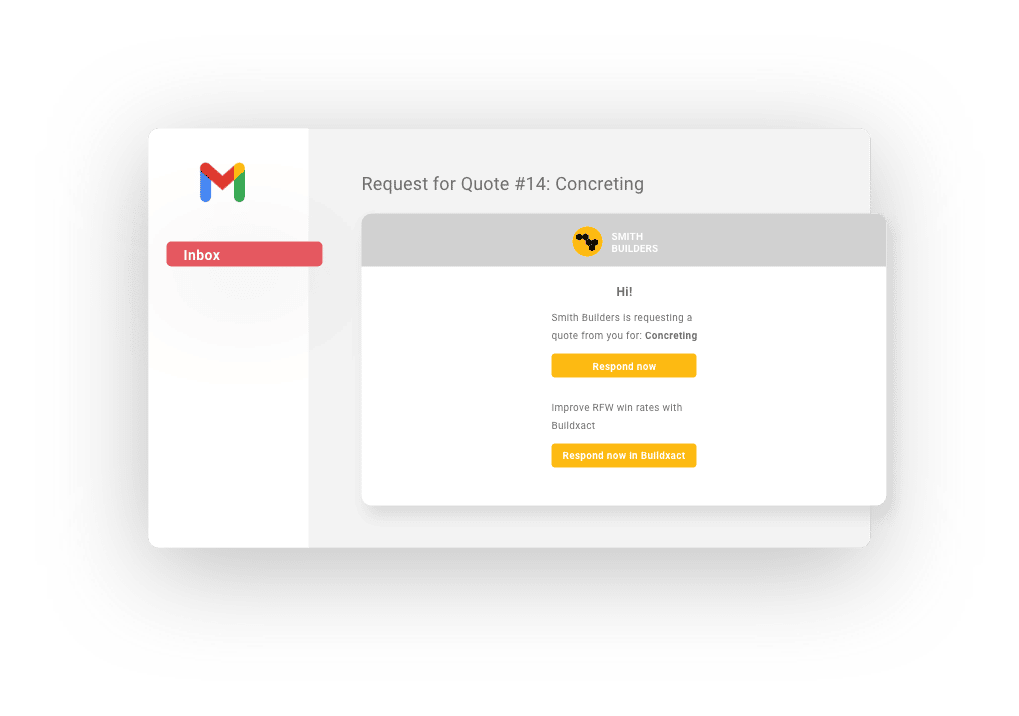 Alternatively, if the supplier provides an estimating service, they can complete takeoffs 80% faster using Buildxact's online tool. In a recent study, builders advised response times are more important than price. Buildxact helps accelerate response times to increase win rates for sales reps and their builders.
With builders using an average of 4 suppliers per job, Sales reps can also go the extra step by suggesting additional or alternative items for builders. This can save builders the hassle of visiting a local supplier to collect items that were missed on the original quote – and therefore not included on the homeowner's quote. It can also assist with supply issues, giving builders peace of mind the items quoted will be available when needed.
Once the job is won, sales reps can easily convert an estimate to a job schedule to pre-set reminders and customer notifications for orders and delivery. Better yet, product SKUs on the builders' purchase order will reduce errors and double handling, simplifying the ordering process.
Help builders self-serve to reduce transactional costs
A staggering 82% of builders agreed it would be easier if they could self-quote using prices provided by suppliers according to research from Buildxact and the Farnsworth Group. With builders spending approximately 4 hours per quote, submitting an average of 6 quote requests per week to 3 suppliers, that's lots a lot of time that could be spent building the business or taking time out for themselves.
Similarly, sales reps are spending an average of 5 hours responding to quote requests with an average of 6 communications. These administrative tasks cost suppliers approximately $900 per quote request. That's over $2 million a year!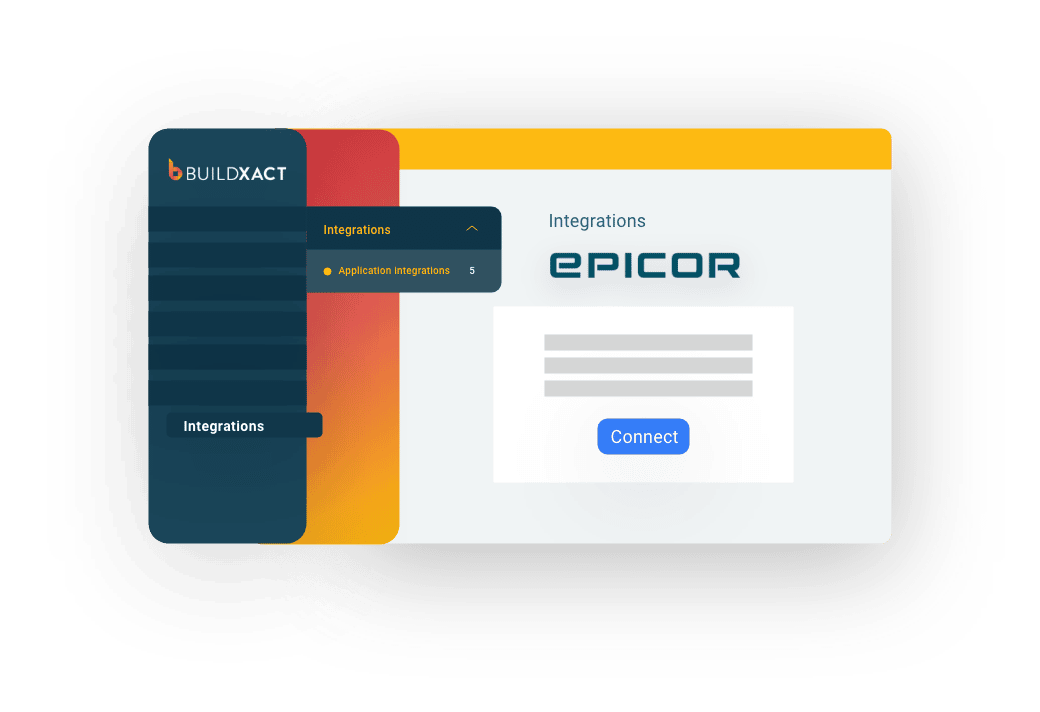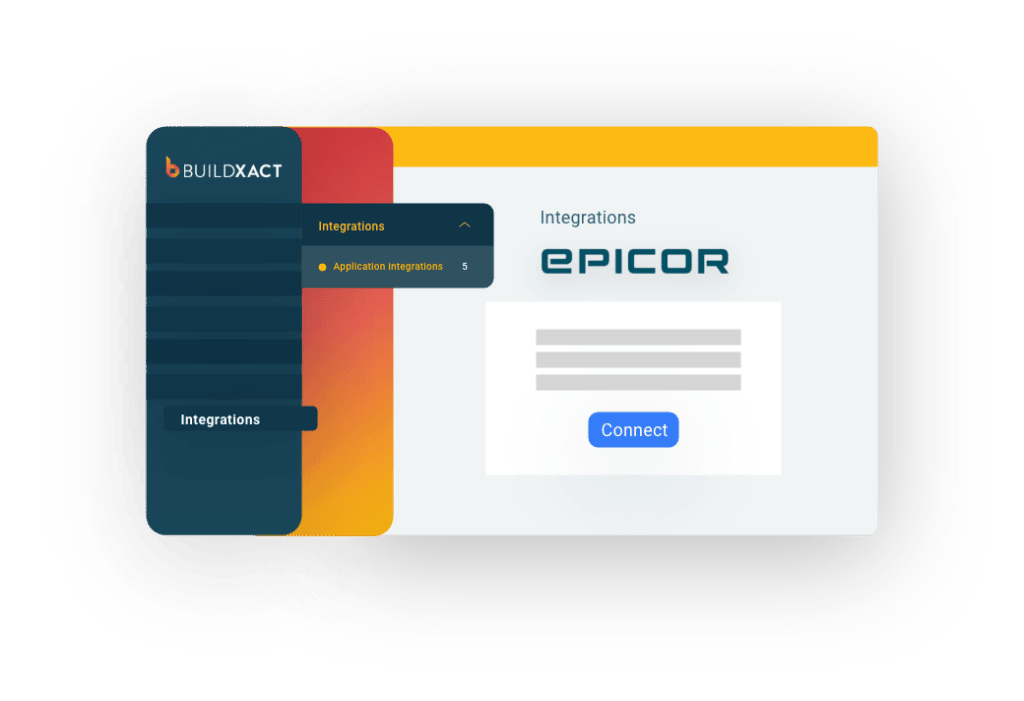 Buildxact provides a platform for suppliers to share tiered price files and packaged SKUs with connected builders. The price lists are automatically integrated into the builder workflow when creating estimates. With up-to-date pricing on hand, builders can send a quote to homeowners in hours, rather than days or weeks.
Integrated pricing not only saves sales reps time and transactional costs, but suppliers have also reported an increase in sales across categories as well as an average spend increase of 49%.
With ERP integration with Epicor BisTrack, suppliers can boost supply chain efficiency with accurate product information and pricing from manufacturer to supplier to builder. With most prices changing monthly, Buildxact eliminates double handling of price plans and updates giving suppliers confidence their builders are working from the right price list.
Deliver a personalized experience with builder insights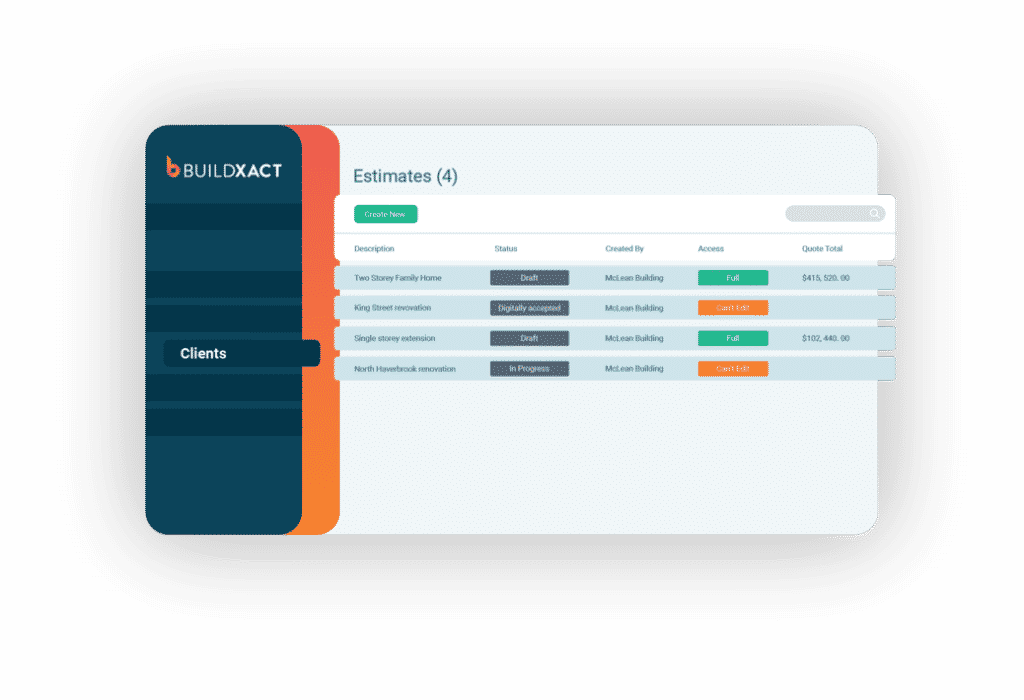 Buildxact holds data insights and knowledge from thousands of builders and over $3 billion in quotes per month. That's a lot of data! It also represents an opportunity to rethink how suppliers support their builders.
To proactively manage key accounts, suppliers can stay ahead of the game with builder estimates automatically shared on Buildxact. No need to wait for quote requests – sales reps can automatically see sales opportunities and collaborate with builders on whole of house proposals, stock availability and alternative items.
With insights into builder data, suppliers can also support builder needs with sales pipeline management and inventory requirements predictions. This information can also be used to design pricing tiers using estimates and historic purchasing data.
Try for free
Buildxact delivers the information sales reps need to make informed decisions. It gives sales reps the tools to build relationships and grow the business with an all-in-one, easy to use platform. Best of all – you can check it out on a free trial. No contracts, no credit cards. Unlock a more efficient way to work with builders today.