The Southwest region of the United States has seen a large influx of transplants before and during the pandemic. Known for its warm climate and open spaces, the Southwest is a highly desirable place to live. The Southwest states generally include Texas, Arizona, New Mexico, Nevada, Utah, and sometimes Oklahoma and Louisiana, depending on the source.
Housing prices alone rose sharply during the height of the early market recovery. The affordability of the Southwest market for most new transplants from both the Pacific and Atlantic coasts — where housing prices are at their highest and in some cases double that of the Southwest — make it an ideal place to move, and the COVID-19 pandemic with its work-from-home mandates made it easier to pick up and go.
Mortgage rates are at an all-time low — 3.45% for a 30-year fixed mortgage as of this writing (1/13/21) despite inflation on various consumer goods and services. The low mortgage rates continue to fuel the opportunity and demand to purchase a home. Yet, some builders are holding on to inventory due to supply pricing fluctuations and other issues like the lack of vacant lots.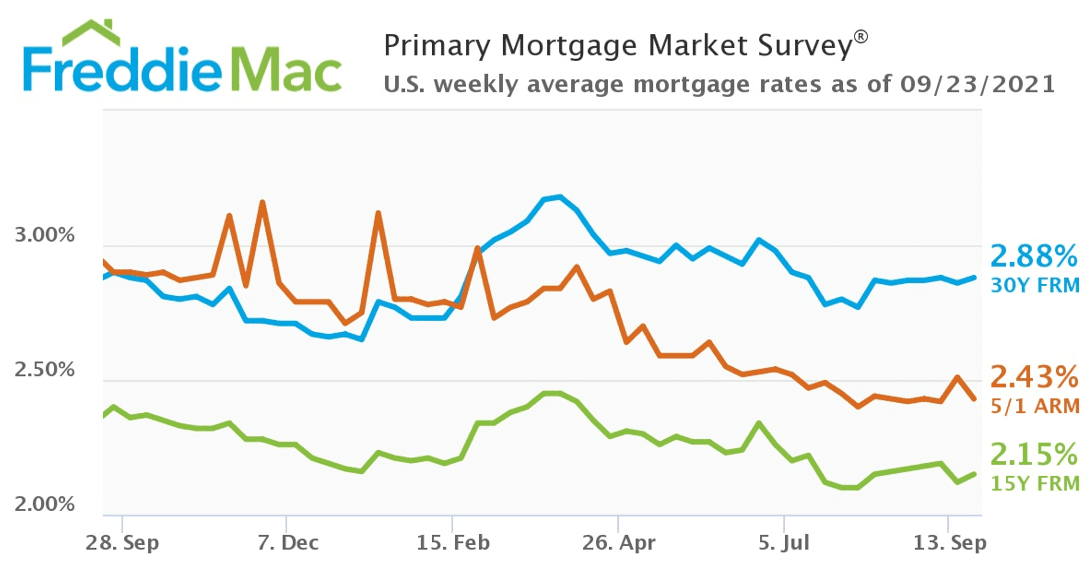 Manufacturing's new hub
In addition to a hot housing market, the Southwest saw the most significant growth in manufacturing yield than any other region of the U.S. in the four years leading up to 2020, according to The Wall Street Journal and data from the Bureau of Economic Analysis. An article that appeared in The Wall Street Journal boasted the five-state region accounted for 30 percent of U.S. job growth in manufacturing — over three years — and more than 100,000 jobs.
Many of the companies that made a move to the Southwest did so because of the availability of land, tax breaks, and available labor in a time when skilled labor, in general, can be hard to find throughout the nation. And not just blue-collar labor. Because of the increased competition for skilled workers, American manufacturing jobs now require more advanced skills, which means a higher level of education.
Companies moving to the Southwest
The most notable company moves include Tesla, Charles Schwab, Hewlett Packard Enterprise, and Apple, which is opening its second-largest campus in Austin in 2022 and will house 5,000 employees with a capacity to add 10,000 more.
Intel plans to expand into New Mexico, creating 700 high-tech jobs, 1,000 construction jobs, and 3,500 other jobs throughout the state. Lucid Motors completed a factory with just under a million square feet in Arizona, and Hass Automation is building a 2.5 million square foot plant in Nevada.
For locals, the new growth is both welcoming and painful. New jobs and opportunities, but with the influx of new residents, cheaper housing prices for transplants — are now more expensive for locals. It's a catch-22. As housing prices rise in the Southwest and reach a pain point for locals, it also means their property will appreciate.
Red hot Texas
The Texas economy is red hot and seems to be outpacing other Southwest states. Texas has the second-largest GDP in the U.S. — behind California — at nine percent with a young and fast-growing economy. While the pandemic decimated jobs, Texas has recovered 79 percent of the job losses through the end of August 2021.
According to the Federal Reserve Bank of Dallas, the largest sector, manufacturing, saw the highest growth, although the service and retail sectors are also showing signs of life.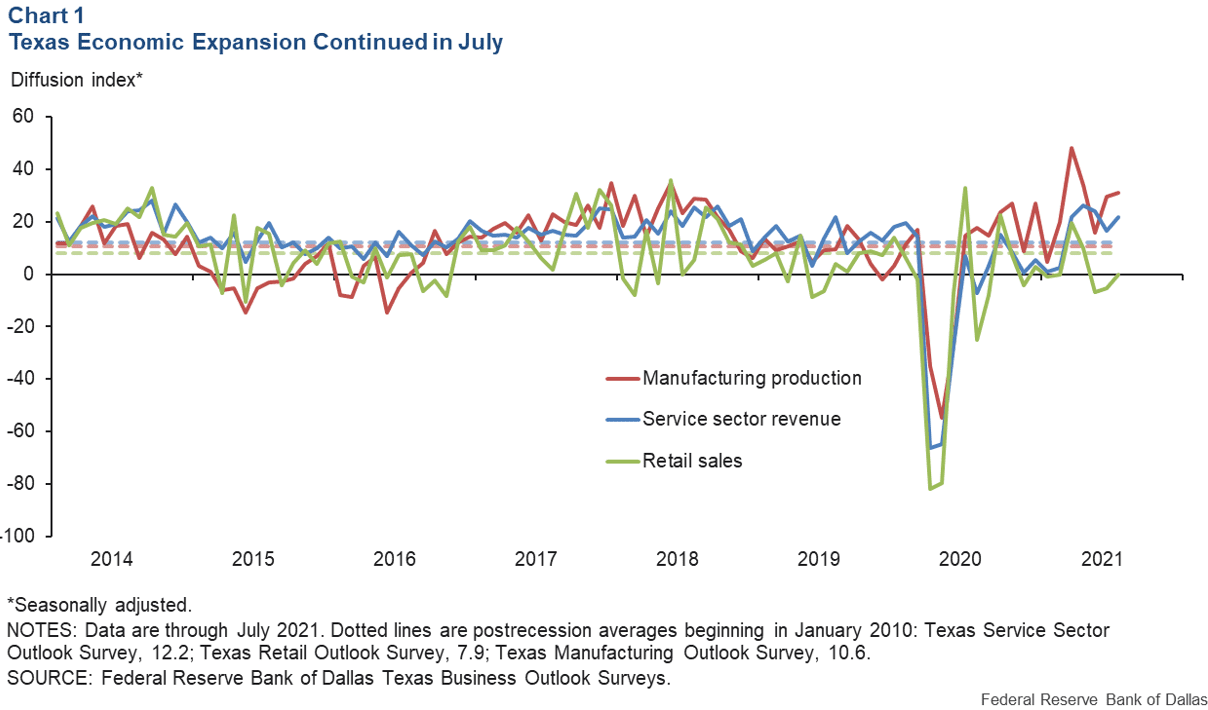 Texas and COVID-19
Vaccine rates in Texas are behind the nation. Only 57 percent of Texans — over 18 — are fully vaccinated compared to 60 percent nationwide. Absences from job sites have increased despite precautions. A recent survey by The Delphi Group at Carnegie Mellon University found that just over 46 percent of construction workers were hesitant to get the COVID-19 vaccine citing concern over side effects, and one-third did not trust the government.
A report from the University of Texas found that construction workers had a nearly five-fold increased risk of hospitalization, in central Texas, compared to other occupational categories. It could be because approximately 70 percent of all construction workers are Hispanic. The report supports that Latin populations have exposure rates, high-risk comorbidities, and lack accessible healthcare options.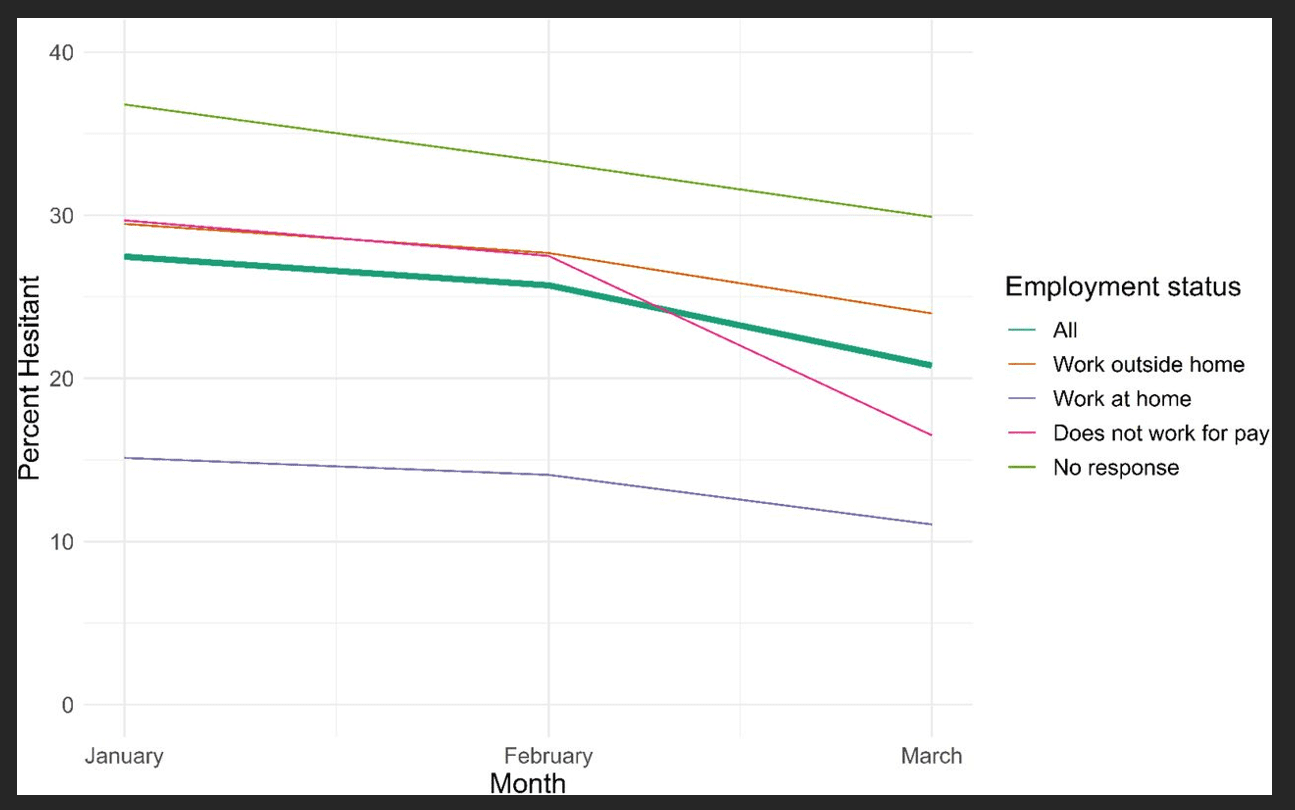 While there is debate on making the vaccine a requirement for work, most firms instill best practices rather than mandating the shot. According to Tony Bennett, the Texas Association of Manufacturers, they've learned to work with COVID, although uncertainty is not the best way to plan.
A spotlight on Texas construction and housing market
Three of the top five cities with the highest demand for construction workers in 2021 are in Texas: Dallas, Houston, and Austin. Texas leads the country in new housing permits.
A survey by Residential Strategies shows that builders' costs are up 18 percent year-over-year, causing builders to build but not sell until they have a clear picture of the total costs. Even if they did sell, inventories could still be low moving forward because vacant lots on which to build are becoming hard to find. And when a lot is free, the permit process takes longer – from two to three months to as much as nine months or more.
Top three Texas city profiles
Austin
Austin continues to be the talk of Texas aside from SXSW and Austin City Limits. With more #1 rankings — #1 Tech Town, Best U.S. Cities for Starting a Business, Best Places to Live in Texas (and in America), Hottest Big City Labor Market, and more — individuals and companies are flocking to the capital city. It is the most diverse, educated, and fastest-growing major metro in Texas. A tech corridor, Austin is the sixth in most concentrated STEM jobs and fifth youngest — 33 percent of the population is between 25-44 — of all large U.S. metros.
An influx of people to Austin, mostly from coastal states like California, because of tech companies moving to the city – like Amazon, Facebook, Google, and Buildxact — are pushing housing prices upward. However, they are still affordable in comparison to California standards. But like most major metros, demand is outpacing supply.
Dallas
Dallas continues to recover from pre-pandemic employment levels and posted three-year job gains with an unemployment rate of 5.3 percent, which coincides with the national rate.
As part of the North Texas growth, Dallas-Fort Worth and its submarkets are experiencing a land grab due to the surge in demand. According to Zonda, there are new residential developments added daily. But this also means it will take a couple of years to deliver to the market.
Houston
Zonda has observed "the largest number of new homes under construction across Houston that we've seen in 40-plus years of analyzing the market, but also the tightest inventory of finished vacant homes…". And in terms of annual starts, Houston is the second highest-volume new-home market in the nation, next to Dallas.
Houston's growth is like what we see across the country — pandemic new-housing demand, low-interest rates, and lifestyle change from people moving to the area from other areas of the U.S.
Friendly business environment
Some of the largest manufacturers moving to the Southwest and the states are welcoming, with aggressive tax incentives — and in some cases no state income tax, like Texas — tax credits, reductions on sales, property, and business taxes. It is an attractive area to set up a business and a lovely place to live.