We live in a rapidly changing world where technology is advancing at a groundbreaking speed. And with the rise of social media, remote work and online communication tools, everyone is migrating to researching and purchasing online. It is essential that if you own a small construction company or are involved in the construction industry in any way, that you take construction marketing seriously and develop a solid marketing strategy. Developing a solid strategy will guide your marketing efforts to help you stand out in the crowded construction industry.
Marketing your residential construction business online a necessity. The process of changing the way you market your business might seem intimidating, but it is pretty easy to learn. A solid marketing strategy includes social media marketing, search engine optimization and other strategies to help you reach existing customers, but also increase brand awareness so that future customers can find you.
If you are not sure how to promote your business, generate more leads and win more work, this blog has got you covered.
Here are the 10 tips on how to market your residential construction business.
1. Build a website that you can easily update 
Your website is the foundation of your business, and it is a critical aspect of generating leads. The more professional your website looks, the more trustworthy it will be to your potential customers. This will go a long way in helping them choose your business over other companies.
Your customers should be able to easily navigate through your website on a desktop, tablet, or mobile. By using a Content Management System (CMS) like WordPress, Squarespace, or Wix, you can access prebuilt templates and themes to get started quickly and easily update content and images. Updates to any pages, content, or images will automatically update across each device, saving you time and effort and results in a great online experience for your customer. Having an updated website with useful, engaging content will help generate website traffic.
Don't have a domain name? Any CMS can help you register a name and then you can get started right away.
2. Create an attention-grabbing homepage banner 
Your homepage banner is your "hook." It is the first thing visitors will see when they click on your website and should include:
A hero image is the central piece of your banner and should be a high-quality image showcasing your business. Good imagery is essential to having a great website.
A catchy tagline consists of one or two sentences demonstrating the value your business delivers to your customers. Make sure it ties to the company brand so potential customers can get a sense of the business right away. It is always a good idea for the marketing team to do some research before landing on a final tagline.
Your primary services summarizing who you and what you do in bullet point form ensures even speed-readers will get the gist. Remember most of your first-time website visitors won't have the time to read everything in one visit.
A call-to-action button directs visitors to your contact page or the next step of your sales process. For example, 'Find out more' or 'Contact us' with a visual button are great ones to use it lets people know just what to do next.
3. Invest in photography
Hire a professional photographer take photos of completed projects to showcase the quality of your work for your website's portfolio page and for placement on your social media platforms. Book a photographer once every quarter to do a photoshoot to keep your portfolio fresh. Having good images is essential to an online presence and helps catch the attention of potential clients who might be visiting your website for the first time.
Humanize your brand and content by including images of yourself and your team too. Potential customers will want to know that they'll be doing business with real people. This is a very important part of any construction marketing strategy. People like to do business with people they feel they know and can trust.
4. Include contact information and

call to action

on every page

 
Contact Number:
Include your contact number in the upper right-hand corner of every page of your website. It reminds customers that they can easily call you no matter what part of your website they're browsing. On the mobile version of your website, your customers can tap on your number in the same location. It should automatically redirect them to their dial screen, where they can hit the call button or save your number immediately.
Call to action at the bottom of every page:
Never publish a page without guiding your customers to another page or call to action, e.g., 'Contact us.'
Otherwise, you're just leading them to a dead-end and they're left to figure out where to go on their own, or they'll leave your website altogether. You want to keep control and push your visitors through the proper steps of your sales process.
5.

Improve your contact forms 
We know it seems like longer forms could drive potential customers away, but the truth is that a qualified lead with high purchasing intent is going to fill out whatever form you give them. A solid qualified lead is gold to any construction company.
Business is a two-way street, and as much as you want to get new customers, you also want customers that will be easy to work with and are willing to give you the necessary information.
At a minimum, your contact form should have these elements:
Heading
The subheading, which includes when they can expect to hear from you
Fields

Full name
Email
Phone number
Property address
More details about the project
Ability to add an attachment

Submit button
Confirmation that their form submission was successful
6. Link to your social media accounts 
Social media marketing is very powerful, especially for a small construction company. Links to your social media accounts like Facebook, LinkedIn and Instagram should be at the bottom of your website as they may detract from your call to action. An effective construction marketing strategy will require someone to function as a marketing manager and launch digital marketing campaigns for your target audience.
LinkedIn: While this is the most underused platform in the industry, it attracts professionals. Using LinkedIn is an effective way to gain connections with industry groups and associations that can help with lead generation and support you in growing your business.
Instagram: This is the best and most popular platform for builders and remodelers. People use Instagram to look for homes that they like and aspire to have. If you post good quality photos and content, they'll find you and start connecting with you. Don't forget to add your call to action on the profile description (usually your website URL or something like "Direct message (DM) for info") and use hashtags (like #homeinspo) to get discovered by new customers.
Facebook: Facebook communities and groups are a good source of information, connections, and leads. Facebook is also the largest social media platform globally, so it's great to have a Facebook page for your business for more reach.
7. Post reviews on your website
Positive feedback from your customers helps sell your next customer by proving that your business is trustworthy and provides value. Once the project is complete, ask your customers to leave a review — on your website (if you have a review page) or on Google — and promote these reviews throughout your website and on social media.
8. How to rank higher on Google
Here are three ways to rank higher on Google and get potential customers to your website:
Google Ads – This is a pay-per-click marketing strategy that can boost your website to the very top of a relevant Google search.
Search Engine Optimization (SEO) – This relies on the quality of your content. The best and most relevant content will boost your Google ranking.
Google My Business – This leads you to the top of Google Maps.
Marketing agencies can help you with this and make sure that your business is easily found online by potential customers.
9. Dedicate a page for Frequently Asked Questions (FAQs)
Think about all the questions your customers might want to ask and have a page on your website that answers them. Having answers to FAQs helps to build further trust with your potential customers.
10. Use your job management system for marketing to your leads
To run your jobs accurately and efficiently from start to finish, consider using estimating and is also a powerful marketing tool?
Whichever online construction platform you use, make sure that it includes a client portal, a designated mini-site, with your branding, that you can set up for each of your qualified leads. Your prospective customers can log in, see details of their project, examples of your relevant previous building work, brochures, etc.
All communication is recorded in their portal, and their building quote, and any project updates. It sends a strong message to your potential customers that you control the builds you work on, and that it will be easy and smooth working with you. It is an important point of differentiation that will set you apart from other builders.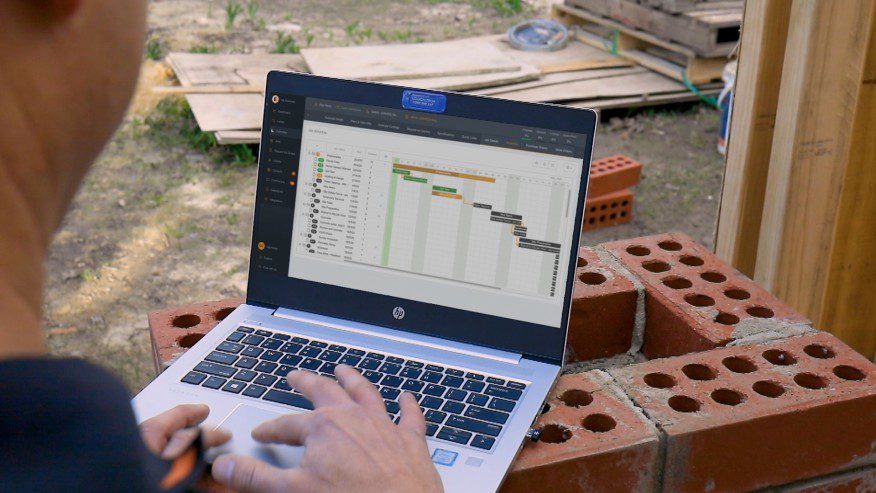 Get started with Buildxact 
To see how our estimating and job management software platform can help you win more work.
Start a free trial and experience Buildxact for yourself.