The big picture impacts of the Coronavirus 
The experts in the construction industry all agree that the coronavirus will have lasting effects and changes for years. Now that economies are opening up across the U.S., the rate at which recovery occurs is anything but crystal clear. Even Kermit Baker, chief economist for the Joint Center for Housing Studies, said in a recent podcast that the next six to nine months is cloudy. One thing is sure, the building and remodeling industry will not return to business as usual. 
The new normal will not look anything like normal. From the office to the job site, the industry has dramatically changed to ensure everyone stays safe and healthy. While each state has its protocols, industry watchdogs like the Occupational Safety and Health Administration (OSHA) have standards and directives for employers and employees to keep workers safe. 
The CDC (Center for Disease Control and Prevention) has published resources for the construction industry to follow — masks, gloves, hand sanitizers, wipes, and separate spaces — to assure homeowners there is a protocol and defined lines to staying safe. 
The positive impacts of the Coronavirus 
As a result of sheltering in place, Americans have had more time at home, and they're reacting with key home improvement decisions. A home improvement survey, conducted in May by LightStream, shows that 73 percent of homeowners still plan to renovate their home in 2020, down slightly from 77 percent from its January survey. This survey further breaks down specific home improvement projects. Those are inspiring numbers. 
New research from Houzz shows that 52 percent of homeowners in the middle of a home renovation project was able to continue when the pandemic was declared. It helped that many states considered construction an essential business.  
Another study, The America at Home Study, shows that almost half of current renters surveyed (incomes $50,000+ and ages 25-74) prefer to own rather than rent, representing demand potential of 7.4 million homebuyers in the U.S. The renter groups most likely to buy a home are millennials and younger Gen X with incomes of $75,000 and above. They prefer single-family detached homes (79%).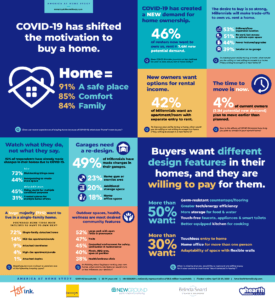 The long-lasting impacts of the Coronavirus 
There are undoubtedly many new procedures and expectations to get back to work. Here is a list of key measures to consider as a result of coronavirus and getting back to work:
1. Jobsite Health and Safety Measures: Many states will require additional safety precautions from temperature checks, masks for work that is considered high risk, physical distancing, and more. Check with your state or local Home Builder Association, like this one from the oldest and largest of the NAHB, the Master Builder Association of King and Snohomish County in the greater Seattle area, that offers members a Toolkit to restart construction. 
2. Touchless Interaction: If you haven't embraced technology, now is the time. The landscape of in-person, face-to-face business transactions has gone virtual, and the companies that offer platforms have responded. Pick a video conferencing platform that works best for your business and customers. Moving to a virtual meeting platform can save valuable time by cutting out commute time as well as allowing homeowners to be on the call no matter where they may be and not rushing to a specific area to meet. Streamlining the process saves time and, in some cases, the number of meetings required to complete the project. The most commonly used platforms that are making it easy to use during the pandemic include: 
Zoom

: one of the easiest and most popular choice at the start of the pandemic, Zoom offers a simple platform from free to paid subscriptions.

 

Teams

: this Microsoft product is straightforward to access and use and includes video conferencing, chat, file sharing, and more.

 

GoToMeeting

: a 

Logmein

 product offers similar options as most video conferencing platforms, but it does require a subscription and is fee-based.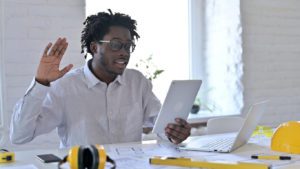 3. Projects and Material Supply: Project delays have created a softening demand, and some inventory levels will be higher depending on the materials. Some industry experts are predicting that materials costs will decline rather than increase in prices as earlier predicted. Now is an excellent time to research new suppliers and diversify your base instead of relying on a single source.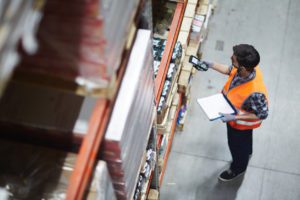 4. Strengthen your business: The last four months have taught us that technology is crucial to keep business running as smoothly as possible during the pandemic. Now is an ideal time to strengthen your business with the right technology, help you win work, and help you run a leaner, more efficient business. From managing costs to schedule to estimating, the proper construction software will help you spend more time enjoying your work and newfound free time. 
Evolving the industry as a result Coronavirus 
The pandemic is forcing the construction industry to evolve now more than ever, and that includes technology, whether its new or enhanced. No matter what size business you own, make a plan to change how you do business because your customers expect it. These are teachable (and forgiving) moments for both you and your customer as we all navigate what's next. A silver lining in an otherwise difficult time. 
There are several software platforms developed and design for the general construction industry. Some platforms are more powerful than others. We offer a simple software solution uniquely designed for the small builder, remodeler, or contractor. You can be up and running in as little as two hours and save up to 80 percent on takeoffs and quotes. Book a demo today.