You know the drill. Spending all day on site, arriving home late in the evening only to jump straight into estimating and quoting new jobs; all while battling admin work and the numerous other time-consuming tasks that come with running a build and construction business. Before you know it, the night is gone. It's time to sleep and get up in the morning to repeat the same process all over again.
This is a common story for many small builders and remodelers who are constantly juggling the demands of running a business while trying to maintain their lifestyle. The builders who use our software work across multiple roles within their business – they're project managers, administrators, estimators, and manage many other areas of their business.
Whether you want to spend more time with family, or simply wish to focus on other areas of your work, Buildxact's construction software can help transform your business and save you time.
Uniquely designed for the modern, mobile builder
To get the most out of Buildxact, all you need is an internet connection and a browser. The platform can be accessed via the cloud, meaning you can log in from your office, job site or on the road.
Buildxact's end-to-end software is deliberately designed to help small builders and remodelers easily commence, plan and complete projects all in the one system, without having to jump back and forth between different types of software. It integrates with Quickbooks Online and Xero, with all the technology taken care of for you – there are no servers or software to own or maintain – and subscriptions are on a monthly or yearly basis, depending on your preference.
More than just a takeoff tool
Buildxact helps you quote new business faster. Instead of manually working with a pen and paper, you can upload plans online and easily conduct takeoffs without error. These takeoff measurements can be used to cost up the job. You simply load supplier price lists directly from a spreadsheet, in addition to photos and other imagery before printing or emailing a professional-looking quote that will impress potential clients.
Not only will you win more jobs – you will seamlessly move through the quoting process much faster than usual. Once a job has been confirmed, each item can be scheduled automatically with reminder messages being sent to your contractors and tradespeople.
The job management section within the platform also enables you to:
send purchase orders
send invoices
manage variations; and,
track job costings to determine where your profit is coming from
Meet the Buildxact team at the International Building Show in Las Vegas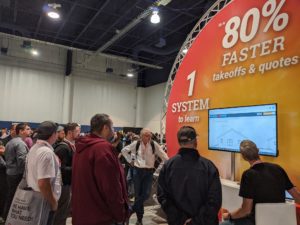 Speak with the Buildxact team at #IBS2020 where we aim to show North American small builders and remodelers how simplified the takeoff process can be when using our software. Our reps will be on hand to answer any questions you might have, giving you the option of completing a demo, booking one at an alternative time that suits, or starting a free 14-day trial straight away.
You will find Buildxact at stand SU1407 right next to the attendee registration area. Come and check out our software and see for yourself how easy to use it is, or simply come up and say hello.