Industry Leading API Helps Combat Labor Shortages and Material Pricing Fluctuations 
MIAMI, Sept. 19, 2023 – 1build, the only API for live construction cost data, today announced a partnership with Buildxact, a leading construction management software provider, to power its new complementary Pricing Assistant feature. 1build's API will connect directly to Buildxact's Pricing Assistant, allowing residential contractors to search within the platform for real-time prices. 
1build offers more than 68 million live data points covering construction prices across materials, labor, and equipment, so Buildxact customers across the U.S. can have access to the most accurate data on the market, along with the most comprehensive estimation tool on the market. 
"For residential contractors, generating accurate bids that maximize profitability without creating additional work is more important than ever," said 1build Founder and CEO Dmitry Alexin. "Access to live construction costs creates efficiencies in the takeoff and estimation process, meaning contractors can send more accurate estimates to dealers in less time, keeping projects on track and on budget. By partnering with 1build, Buildxact is providing their users with a superior cost estimating and project management experience that will ensure contractors stay ahead of their competition."
Reports published at the beginning of 2023 estimated that in order to meet the demand for labor this year, an additional 500,000+ workers would need to be hired. The tumultuous market for materials coupled with an ongoing labor shortage has crippled the ability of residential contractors to supply two critical resources to local job sites.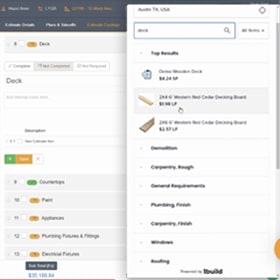 By providing them with this digital assistant powered by 1build, residential contractors can refocus on actually managing projects and the people that make them possible, rather than double-checking budgets. Located in one convenient platform for estimating, scheduling, ordering, and project communications, together, 1build and Buildxact offer a way to do takeoffs faster and with better accuracy.
"Residential contractors are under pressure to keep bids reasonable and stay within budgets. 1build's data now allows us to provide something as simple as the actual market price for labor in a specific location," said Buildxact CEO David Murray. "Buildxact continues to innovate to provide a simpler, more efficient, and more powerful tool for residential contractors to be successful."
For more information on the new Buildxact cost estimating feature please visit Buildxact. For information on 1build and its construction cost dataset please visit 1build.
About 1build 
1build is the de facto standard for construction data, offering the only API for live costs of construction materials, labor, and equipment costs for every county in the United States. Leveraging a unique team of software engineers and data scientists alongside construction industry veterans, 1build's proprietary API offers instant access to over 68 million live data points pulled from over 3,000 counties in the United States. With 1build, software providers can offer both contractors and homeowners complete peace of mind, bringing pricing accuracy and predictability to an ever-changing market. 
About Buildxact
Buildxact gives custom home builders, contractors and dealers control of their business to get the job done. Using simple features, job estimates take less time and ordering materials is possible 24/7 using integrated member price lists. Founded in 2011 in Australia with North American headquarters in Austin, Texas, Buildxact continues to expand its global presence with customers in the US, Canada, the UK, Australia and New Zealand. For more information about how builders and dealers benefit using Buildxact, visit Buildxact.