10 minute read 
As we move into the fall season and cooler weather, the blazing hot residential construction market has also started to cool slightly yet is still a significant contributor to economic recovery. However, the virus continues to be troublesome. Navigating the next several months, and as we close out another year of uncertainty, we'll break down the industry and market trends you need to know.
The Economy and the Virus
The state of the economy is contingent upon the state of the virus. The U.S. gross domestic product (GDP) increased 6.6 percent in the second quarter of 2021, as the Bureau of Economic Analytics reported. Reopening of business and government assistance can be attributed to much of the growth we've experienced to date. It means that people are out and spending on goods and services.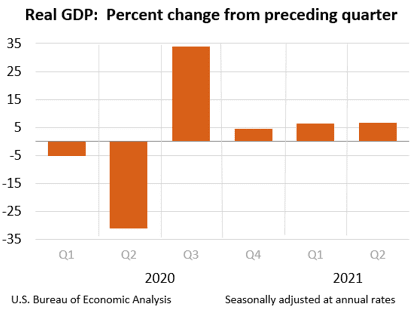 The good news is that housing — residential investment and consumption spending on housing services — contributed 15-18 percent of the total GDP.

According to Ali Wolf, chief economist at Zonda, the "economy has recovered from the pandemic and exceeded where we were when the pandemic started."
In 2020, forecasters debated the shape of the economic recovery. Most landed on a K-shaped recovery, meaning that some sectors of the economy — and certain parts of the population — recover faster than others. Housing is at the top "K" while many service industries struggle to meet in the middle of the "K."
Nonfarm payroll rose in August by 235,000 as the unemployment rates declined to 5.2 percent, a decline of two percentage points since July according to the U.S. Bureau of Labor Statistics. Most of the gains in employment occurred in professional and business services, transportation and warehousing, private education, manufacturing, and other services. Manufacturing is still down from its pre-pandemic levels (Feb. 2020), which is becoming increasingly evident with product shortages.
National Residential Homebuilding Highlights
Residential demand remains high, particularly in the suburbs and exurbs, yet there aren't enough homes to meet demand. Market demand, coupled with low mortgage rates — the lowest anyone has seen in their lifetime — continues to fuel demand. While the average sales rate has dropped from its peak, Ali Wolf notes that we are above our 2019 pre-pandemic.
In July, we are starting to see a shift; production builders are slowing down sales due to high material prices and other factors, including lack of labor, availability of materials, and the price of lots. With that, many buyers are showing hesitancy to buy at higher prices. With the uncertainty of what going back to the office looks like, many are waiting it out. Still, don't expect prices to fall too much, and it's not likely that there will be a "true" bubble, like that of 2008.
National Remodel Industry Highlights
According to the Leading Indicator of Remodeling (LIRA), the residential remodeling sector has seen annual gains in homeowner improvement and maintenance spending. Because of solid housing sales, price appreciation, and new residential construction activity, Chris Herbert, the Joint Center for Housing Studies managing director, indicates that home remodeling will grow quickly.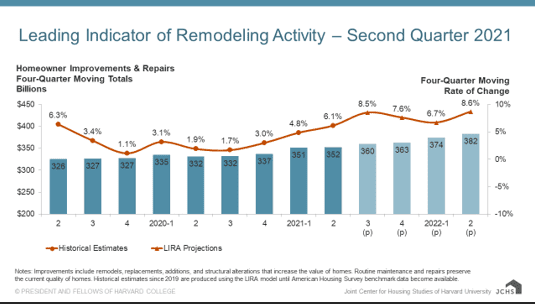 The fragmented remodeling industry has shown levels of growth in the past two decades, and much of the increase is mainly in part to the bigger businesses; they have resources in terms of financial viability to weather challenges. But, as Kermit Baker, a former senior research fellow at the Center and Project Director of the Remodeling Futures Program and chief economist for the American Institute of Architects, points out, a contractors' specialization is more critical than size.
National Building Material and Supply Dealers
The industry continues to see record growth due to the hot housing and remodeling markets, even with limited inventory. So far 2021 has seen some dramatic acquisitions and consolidations, the biggest being the Builders FirstSource/BMC merger.
In addition, the difficulty of keeping regular stock items in-house at regular levels is proving to be more difficult.
Look at the last four solid years of sales growth — courtesy of the U.S. Census Bureau and where 2021 currently sits with January through June results, it looks to be another record year.
NAICS 4441 (Building Material and Supply Dealers)
Sales
2021
2020
2019
2018
2017
Full Year
TBD
368,610
326,531
320,886
306,211
Jan- Jun
211,129
177,332
163,456
158,996
151,284
Growth YOY
 TBD
11.42%
1.73%
4.57%
3.75%
Market Trends to Watch
With our eyes on the economy and the virus for the near term, there are key residential construction highlights to keep an eye on. We'll focus on key market trends you need to know each month.
Building Material — and Labor — Shortages
As demand for housing continues, coupled with supply chain disruptions due to the pandemic, it is no surprise that building material shortages continue to be an issue. According to the National Retail Federation, there is a lack of shipping capacity at the port level and congestion of vessels lining up to unload. This coupled with labor shortages is making it difficult to get the necessary goods to key dealers and distributors.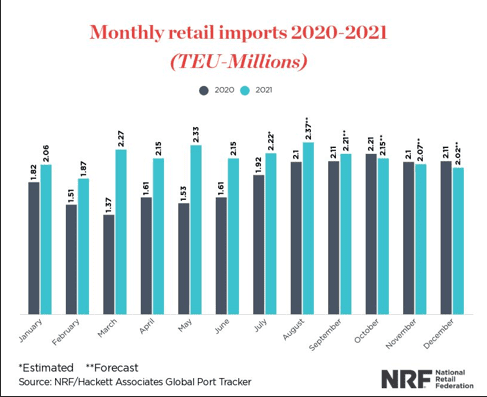 Anticipating a Consumer Slowdown
As the housing market continues growth through 2022, due in part to low mortgage rates and the Delta variant, it won't last forever. Predictions show that once businesses are allowed to open (late 2022 and into 2023) consumer spending on home improvement may also slow as pent-up demand for travel and leisure will rise. According to Ivy Zelman now is the time to save as you see mortgage rates and inflation begin to rise incrementally.
The Hot M&A Market
If you thought 2020 was a hot mergers and acquisitions year, 2021 is looking even brighter. "The mergers and acquisitions market has never been hotter than since the days of the dot-com startups," said John D. Wagner, managing director at 1stWest Mergers and Acquisitions, LLC. "There's a great deal of cash a.k.a 'Liquidity' sloshing around the market, and our firm is approached at least once a day by private equity firms looking for companies to buy."
John notes that it won't last forever. "The economy is roaring, and money is cheap for now, but if sellers miss this cycle it will be another three to four years to regain the perfect wave we are riding now," adds John.
Builder Loyalty, or lack of
With inventory levels at a low point, today's builders — mostly small builders, remodelers, and contractors — are shopping around to find what they need instead of waiting for their local dealer to contact them with availability and price. And, in some cases, cost is not a barrier, and a personal connection is great but it's not a deal-breaker.
"As much as I like to speak with a supplier, and it's good to know that they are there if we can make it as streamlined and as frictionless as possible to make a transaction —regardless of size or scale — the better for me. I don't think that's just me; it's just the way the world is moving," Matthew added.
Inventory Management
From regular stock items to customer orders and solutions, managing inventory at the lumberyard has proved to be a challenge today. Some call it the perfect storm — the shutdown did not mean a turndown in business. Couple that with the demand for lumber and the increase in pricing, and the continued lack of labor both before, during, and after the pandemic — lumberyards are looking for ways to improve the ways they manage inventory. This is leading many lumberyards to make significant upgrades — in the form of capital improvements — to their facilities to be more efficient
Building Material Prices
July saw the most significant monthly price decrease for lumber — a 29 percent decrease for the month. While the price is still above January 2020 pricing, it was a welcome adjustment. According to NAHB, prices have only decreased twice since December 2019 and have seen a 12-month increase of 19.4 percent. The National Lumber and Building Material Dealers Association continues to work with the White House and Biden Administration regarding lumber price volatility and supply chain issues.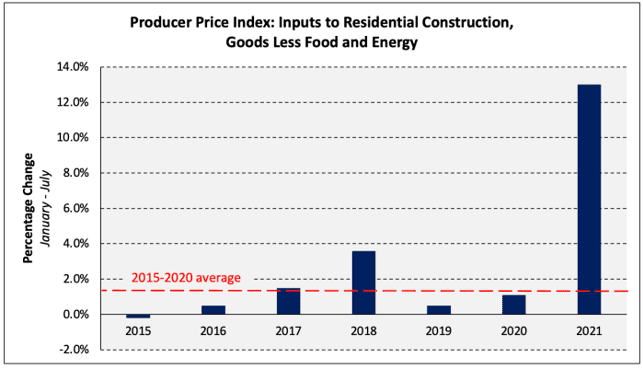 Other building materials saw an increase in pricing, including steel at just over 10 percent, drywall increased by 2.5 percent (up 15.8 percent YOY), and concrete stayed level. But this hasn't stopped many builders from looking at products they can get quickly regardless of price because it's needed now
For the last 18 months, the pandemic has led the nation's recovery and there are still sectors that haven't quite snapped back, and it won't be as easy as the housing market has enjoyed. Of course, each region of the county has its own set of circumstances. We are keeping an eye on key regions throughout the country. This month we check out the Southwest market.