In simple terms, a construction project timeline presents an easily read construction project schedule that guides — from start to finish — the specific tasks and milestones, from elevations to framing, to window installations to plumbing, needed to successfully complete a custom home construction project.
A well-crafted timeline ensures everyone on your team, from subs to general contractors, meets deadlines by having at their fingertips the essential timing of each project phase. Only by staging these phases correctly can a builder hope to build efficiency into their construction business.
Once effective construction project timelines are routinely implemented, the planning, coordination and tracking of progress becomes predictable, allowing builders like you to only bid and take on the jobs you know will grow your construction business.
Read on to further understand the benefits of a construction timeline. 
You'll learn:
the factors that could impact your timeline
 how to create a construction project plan template

the best way to select an effective construction scheduling platform that fits your business.
Benefits of creating a construction schedule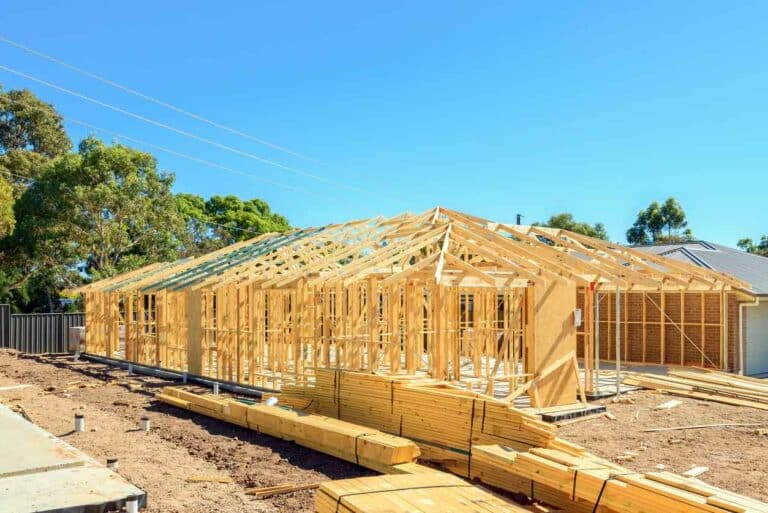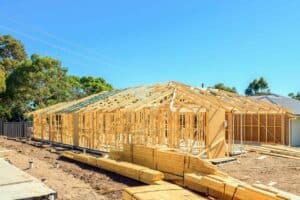 A construction schedule can ensure smooth communication, coordination and efficient tracking of punch list items, making it easier to address issues when they arise, keeping the project on track. Here are a few more essential benefits to reduce risk and delays and improve efficiency and productivity:
A construction schedule helps builders stay on top of costs, by keeping material deliveries in synch with your subs. Less dark days on site means projects stay within budget while avoiding unexpected labor expenses needed to catch up on lost time.
A construction schedule alerts you when to get subcontractors involved
Subcontractors are the backbone of a building project. A construction schedule guides you on when to bring in specialized help, confirming the right people are onsite at the right time—most notably for jobs like electrical, plumbing, HVAC and even drywall. The best construction scheduling software connects to
daily logs and progress updates
.
A construction schedule helps you track permits, inspections, materials, and other documents
Whether the project is a custom home or a planned community, organization is key. Permits and inspections can fill up a whole binder. A construction schedule tracks permits and inspections, ensuring all necessary approvals are obtained, and the project moves forward smoothly. It lets you plan for and purchase materials and manage documents, reducing delays and last-minute rushes.
A well-planned construction schedule leads to improved customer satisfaction
Projects that are completed on time and within budget make for happy customers. No one likes surprises, especially when they hit code red on the bottom line.
Factors that impact a new construction timeline
A new construction timeline lets you plan for the worst-case scenarios and day-to-day construction tasks. However, numerous factors that could impact your construction project timeline, like navigating the maze of permits and regulations, from city codes to building codes, might affect your new construction timeline. Delays in approvals or compliance issues slows progress. We've outlined a list of other factors that could impact your construction project timeline:
Complexity of the projects
The scale and complexity of a project can play a significant role in the construction project plan. Larger or more intricate construction jobs like multifamily or commercial projects can take longer than a single-family home. Building a project plan specifically at scale is essential. Having the ability to save those plans from your most successful projects to benefit the planning of future projects similar in size and scope is key.
Site and weather conditions
The old saying "Mother Nature always bats last" couldn't be more appropriate for construction projects. As climates become more extreme every year—from temperatures, rain or snow—weather conditions will impact construction, causing delays that impact 
your construction project schedule
. Having a record of past projects helps you estimate the proper buffer into your project phases.
Other Unforeseen Obstacles
Unexpected obstacles or changes in the construction project plan, such as hidden structural issues, unknown brownfields or neighborhood complaints, can throw a timeline off course. You need a system for documenting these events for all to see.
Availability of materials and labor
Many builders need help finding and keeping labor. It's a well-documented pain point. The instability of materials — and their costs — can also cause a perfect storm. This will affect the construction project timeline when demand outpaces supply or skilled workers are scarce.
How to create a construction project plan template
Whether you're a seasoned construction manager, project manager or just beginning a career in the industry, a buttoned-up, realistic construction project plan template is your guiding light. It can help save time, reduce errors, and improve project organization. 
Here are some high-level steps to help you create a successful construction project plan template for future projects, large or small:
Break out construction tasks and milestones
Begin by listing all the tasks and critical milestones for your construction project plan, such as groundbreaking dates, framing, electrical, HVAC, finishing, material delivery dates, subcontractor or contractor schedules and available subs as a backup.
Add dependencies between related tasks
Identify which tasks depend on others and establish these relationships. This helps in maintaining a logical sequence of work. In other words, connect the dots. For instance, plumbing goes in before electrical, and both happen before drywall.
Assign resources to the scheduled work
Assign the right people—in-house or subs, equipment and materials to each scheduled task to ensure smooth execution. Make sure you have a way to reach these teams by text messaging or email to keep everyone on the same page about daily progress.
Estimate how long tasks take 
Speak with your team about (or look back on) previous jobs, reach out to experienced contractors for realistic timing or work with a project manager with estimating experience. Make sure you build in any required buffer days between phases.
Create a (realistic) schedule
Create an achievable schedule by factoring in all the information you've gathered. A realistic timeline sets your project up for success, but remember, the key here is flexibility. 
Six vital phases of the construction life cycle 
Six phases make up the construction life cycle. Commercial, residential or multifamily vary greatly but essentially follow phases from idea, planning and gathering a team to completion. 
Whether you're a developer, custom builder or project manager, consider these six phases that can serve as a roadmap for navigating your building project plan. 
1. Initiation
During initiation, the project's purpose, goals and objectives are defined, including the feasibility, setting the project's direction and ensuring it aligns with any organizational goals—it's the phase where you discover whether your project pencils out. 
2. Preconstruction
Create a detailed construction project plan, outline tasks, timelines and resource allocation. This phase is vital for minimizing risks, estimating costs and ensuring everyone knows their roles and responsibilities before a nail hits the wood. 
3. Implementation
Also known as the groundbreaking, implementation is where construction work happens. It's essential because this is where the project comes to life and your planning efforts are implemented. 
4. Performance
Track the progress, measure against the plan and make necessary adjustments. It's crucial for maintaining quality, controlling costs and addressing issues promptly.
5. Monitoring
This involves continuous oversight of your project's performance, ensuring it adheres to the plan and objectives. It's important for identifying and addressing problems early on. 
6. Closing
In the closing phase, you wrap up the project, ensure all objectives are met and conduct a final review. This is where you deliver the project to the clients and have a chance to evaluate lessons learned while closing out contracts.
Determine other needed 'phases' 
Each construction job varies wildly. These six phases are high-level and offer baseline information. You might realize that six phases aren't enough — or too much — or that some overlap, depending on the project. 
Ask yourself about the job's complexity and if any unique challenges require more time. For example, a feasibility study or an environmental impact assessment may be required for larger projects, which must be added to your construction project plan template. 
Here's a brief breakdown of how a residential timeline looks:
Materials and labor are often more readily available, helping to reduce delays caused by (increasing) supply chain issues.
Residential construction project schedules are usually more straightforward, with a streamlined approval process.
Smaller construction teams, fewer moving parts, fewer chances for communication breakdowns.
The length of construction project time will vary depending on the size, materials, permitting and more.
Plans & Permitting 8 weeks
Site Work 8 to 12 weeks
Framing 6 weeks
Plumbing, Electric, HVAC, etc. 4 to 6 weeks
Insulation, Drywall, Flooring 12 weeks
Landscaping/Exterior 8 weeks
The best construction scheduling platform
Whether you're constructing a custom home, remodeling a client's kitchen or planning and building a multifamily project, your success depends on proper planning—a construction project timeline is essential. Today, you have choices that can streamline the process and help you build your project while building efficiency.
Building a project plan doesn't have to be complicated. We're here to help. Buildxact offers you a simple solution to create a critical path construction schedule — building a detailed plan outlining all the tasks, timelines and resources necessary to complete the project—specifying what gets done, when.
Take charge of your construction projects with a powerful construction project timeline, every time. Unlock the secrets to success and achieve project triumph.
Ensure project success with Buildxact's construction project schedule software, from quote to completion, including takeoffs, estimates, project management and invoicing. Our construction project schedule software streamlines processes and reduces admin time by up to 80%.
Book a demo or start a free trial to begin building efficiency into your construction business today.